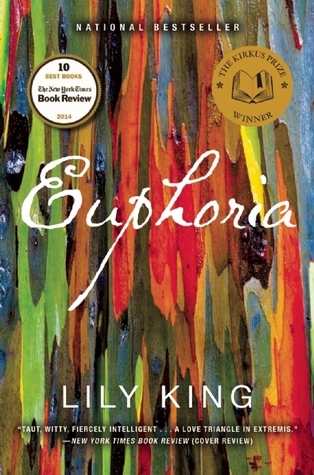 I'm going to start this blog by saying that I didn't choose to read this book. Euphoria was one of the books assigned by my work book club, and after reading a couple chapters I set it aside and hoped it wouldn't get picked for our short-list.
Synopsis: English anthropologist Andrew Bankson has been alone in the field for several years, studying a tribe on the Sepik River in the Territory of New Guinea with little success.
Increasingly frustrated and isolated by his research, Bankson is on the verge of suicide when he encounters the famous and controversial Nell Stone and her wry, mercurial Australian husband Fen. Bankson is enthralled by the magnetic couple whose eager attentions pull him back from the brink of despair.
Nell and Fen have their own reasons for befriending Bankson. Emotionally and physically raw from studying the bloodthirsty Mumbanyo tribe, the couple is hungry for a new discovery. But when Bankson leads them to the artistic, female-dominated Tam, he ignites an intellectual and emotional firestorm between the three of them that burns out of anyone's control. Ultimately, their groundbreaking work will make history, but not without sacrifice.
My first unhappy reaction to this book stems mainly from the unlikeable characters. Even the people who liked this book said they didn't like the characters, but somehow they were intrigued instead of turned off like me.
After pushing my way through what I consider to be a very clunky beginning, the story becomes easier to read. There were so many characters introduced in that first chapter who have no bearing on the rest of the story. I honestly think beginning with Bankson's first scene would have been a much better choice.
The relationship between Nell and Fen is very strained, and it takes a long time to understand what has transpired between them. They very rarely seem to even like each other, so it's hard to believe that the relationship would have survived long enough to make it to marriage. The author hints at the many different problems they are experiencing, but many of the questions raised are never answered, which drives me nuts.
I'll admit that I can see why people would like this book. It's interesting historical fiction, inspired by the life of Margaret Mead,  a respected and often controversial cultural anthropologist who documented the lives of tribes living in the South Pacific and Southeast Asian (particularly the sexual habits of these peoples). But where I wanted the story to be about the research and the tribes, instead it was all about the relationships between these three incredibly self-serving people who I didn't like. If you like books with love-triangles, ethnocentrism, and very little plot, then give it a try, but it just wasn't for me.
LC rating: 
 (great book)