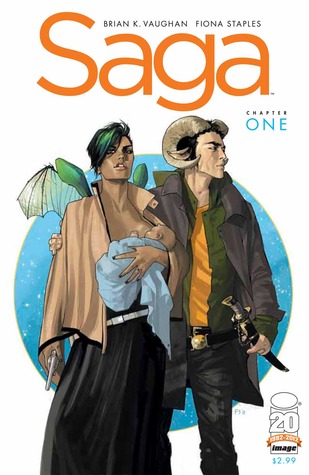 I don't read graphic novels, at least not in the conventional way. I've been reading webcomics for years, but when someone finally collects their beautiful stories into an actual book, I suddenly become totally uninterested in checking it out. One of my goals in my reading challenge is to read a graphic novel, so I asked a few friends who enjoy this literary format and was told I needed to try Saga, by writer Brian K. Vaughan and artist Fiona Staples.
Synopsis: Saga is about two alien soldiers from warring planets who have fallen in love and made a baby. All they want to do is live peacefully, but that's just not going to happen in their war-torn universe. People from every side of the war, including independent contractors, are all out to get the new family. Some factions want them all dead, others want the baby alive, and it's going to take a lot of luck to keep them all together.
Visually, this story is stunning. It's definitely not for everyone because it has a lot of graphic sex and violence in it, but it's hard not to love such detailed and emotionally charged art. There are so many different characters, with so many different looks, that I was consistently amazed at the talent and imagination of both the writer and artist. As good as my imagination is, I don't know if I could have come up with the many different races and faces present in this book.
After this, I think I'll have to give graphic novels another try. The different authors that I was exposed to during classes in university left me unhappy with the genre, but I could see myself getting interested in more truly good stories with amazing art.
LC rating: 
 (amazing book)