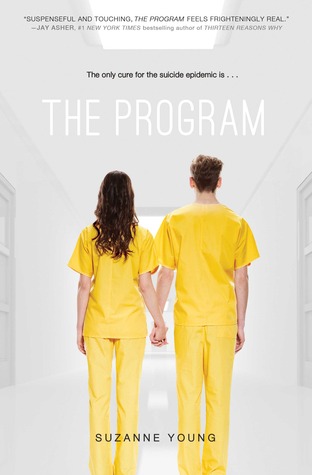 This week I had one of those moments where you look at all the books you plan to read and suddenly realize that you just don't want to read anything that is there. Nothing appeals, even when you read a few pages of each book, just hoping that something will stick.
So I decided to turn to YA for some quick and easy reading that I didn't have to think too hard about. It was Scribd to the rescue last night with suggestions for some interesting dystopian titles. I ended up choosing The Program because the cover has caught my interest on many occasions at work.
Synopsis: The Program is set in a not-so-distant future dystopia where teen suicide is rampant and experts have been called in to try to correct whatever is causing it. The main character, Sloan, recently lost her older brother to suicide and is being watched carefully for signs of depression. The problem is that almost anything could be interpreted as a sign of depression according to The Program. Sloan and her friends struggle daily trying to keep their emotions in check because anything considered unhealthy could get them flagged, and the teens who enter the program always come back changed. Returners have no idea who they were before being sent to The Program, forgetting friends and family in favour of complete contentment.
This book was way darker than I expected it to be, and is definitely for an older teen audience. Sloan and her boyfriend have a very physical relationship, and there is a lot of self-harm and suicide ideation. I've read some reviews from people complaining that the author didn't do enough research about these issues, and that she did a disservice to people suffering from mental health issues by implying that it is contagious, etc. While I would generally agree with these statements, I think it's important to recognize that there are very real instances where teen suicide has become an epidemic. It is unfortunately fairly common for one suicide to set off a chain reaction in youth on First Nations reserves who are unable to see a future for themselves. (check out The Absolutely True Diary of a Part-time Indian by Sherman Alexie for an amazing novel about this and other issues faced by First Nations people)
This kind of easy read was exactly what I needed. I'm probably going to find another YA book to keep up the momentum, and then maybe I'll be ready to get back to my book club homework.
LC Rating: 
 (good book)