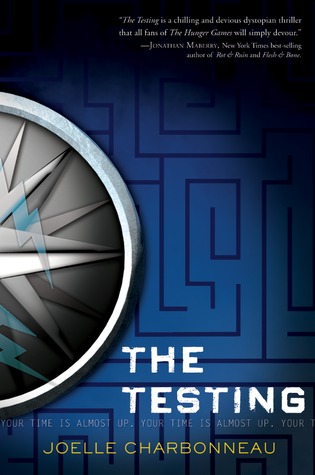 I'm still actively avoiding reading all the adult books that I have been assigned by my book club. I have been slowly trying to get through each of them, but it feels like an exercise in futility when I know that only two of them are going to be picked for our final round. I think I'll just try to read a bit of each so at least I can say why I didn't enjoy any of them, but wait to find out which ones will be on our short list before reading any further.
Instead I have been reading tonnes of teen dystopia. After reading The Program, I decided to try out The Testing (there's a bit of a naming theme happening here…) Even though most dystopian fiction tends to tell a similar story, I have yet to become tired of reading all the different versions of post-apocalyptic American teens fighting the good fight.
Synopsis: The world has been torn apart by war and natural disasters, and people are living in colonies around North America trying to survive and revitalize the barren landscape. The smartest children from each graduating class have the chance to be picked for The Testing, which will allow them to enter university in the capital. Cia has always wanted to go to university like her father, but is also scared because those who are chosen never return to their colony. No one knows what happens during The Testing, but when Cia is chosen, her father warns her that she may have more to fear than just losing her family.
The bad guys in this series are irrationally bad. Who thinks "let's take our best and brightest teens and pit them against each other in high-stress situations to see who snaps first"? Further reading in the series explains more about the motivations of each faction, but on the surface it's hard to understand how such a flawed system could have been put in place from the beginning. If the goal is to ensure peace, to avoid the mistakes of the past, it seems rather counterproductive to encourage such competition in the youth who will go on to lead the country.
This is another one of those books that I assumed would be okay for younger teens which ended up being way darker than I expected. It isn't on the same level as The Program for adult content, but it definitely is for a more mature audience.
LC Rating: 
 (good book)