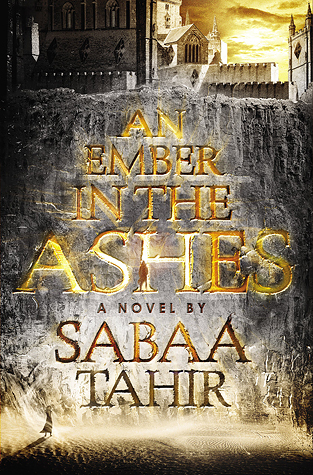 An Ember in the Ashes by Sabaa Tahir has a great cover, and the premise is very different from anything I have seen in YA fiction lately, but I have some serious reservations about this book that ensure I will be selling it with a disclaimer attached.
Synopsis: Laia's family is gone, and her brother has been taken captive by the evil Empire under suspicion of being a rebel. The only way she can save him is by joining the rebels, taking on a dangerous mission posing as a slave in the military academy where she hopes to gain valuable information. There she meets Ilias, one of the best warriors the academy has, but who questions the way things are being run in the Empire.
My major issue with Ember is how often rape is mentioned in the first half of the book and how casual everyone seems about it. While I understand that the dystopian world these characters live in is supposed to be reminiscent of the Roman Empire, I think it's important for the author to treat rape with a bit more seriousness. It's just so casually mentioned, like all the women are just waiting to be raped at the drop of a hat. I get that this is a misogynistic world, but you would think that at least some of the characters would do more than just shrug at the issue.
I do like the characters, although I don't really understand the relationships forming between them. Elias and Helene, sure… they have been partners from a young age and their bound to develop feelings for each other. My issue is with Laia and the multiple guys who just can't help tripping all over themselves to be with her. She barely knows any of them. In fact, she's barely spent more than a few minutes with most of them. The swooning on both sides of these love affairs makes so little sense. For someone who is supposed to be focused on staying alive and saving her brother, she has a remarkable habit of falling into the arms of every tall, dark, and handsome guy that looks her way, even the ones who are on the side of the enemy.
I can see this book being a big seller, only because this type of book sells. The reading public seems to like reading about gruesome teen deaths accompanied by light romance. It's also going to be a series, so we're going to be seeing it in stores for many years to come. I likely won't be reading the next book in the series, but I definitely know I'll be selling it.
LC rating: 
 (okay book)