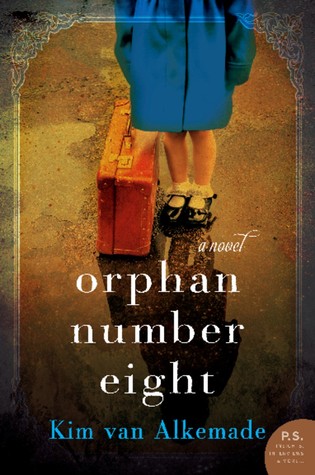 Trust me… you want to read this book. With that in mind, I strongly suggest you don't read the blurb on the back of this book (or on Goodreads). I think it stresses certain aspects of the story that are less important to the overall narrative, and that it gives away WAY too many plot points.
Synopsis: Orphan Number Eight by Kim van Alkemade is a beautiful and haunting history of Rachel, a young girl who was orphaned under tragic circumstances. Separated from her brother when a foster home can't be found for the two of them, she is sent to an orphanage for infants because she is only 4 years old. The events that follow have a profound affect on the rest of her life, which we discover through chapters set in the present time where she is a nurse at Manhattan's Old Hebrews Home.
This book is a chilling glimpse into the far too common mistreatment of people who are considered "expendable" to the rest of society. The author does a great job of showing how trauma experienced in childhood can affect a person's life in a myriad of ways. Rachel's past comes flooding back to her when she realizes that her newest patient, Dr Mildred Solomon, is the same doctor who performed medical tests on her when she was in the orphanage.
I personally find books about medical history intriguing because many of the treatments they used are so completely baffling today. Of course, without someone taking the initiative to try new treatments we wouldn't have modern medicine, but it's still hard to believe that people were okay with using children to test new procedures. Books like this definitely put a spotlight on our past mistakes, and hopefully we are able to learn from them.
And if you like this book, you should also check out The Immortal Life of Henrietta Lacks by Rebecca Skloot.
LC rating: 
 (great book)
---
This post contains affiliate links which means that I will receive compensation if you purchase anything using the links above.