The Sunday Post is a weekly meme hosted by Kimba @
Caffeinated Book Reviewer that doesn't have a theme, per se, it's more of a weekly wrap-up. I'm going to use it to tell you about some of the other things I've done this week and give you a sneak peek at what's coming up on the blog next week!
---
Sunday: I decided to preorder Go Set a Watchman. My goal is to finish To Kill A Mockingbird by the end of this week, no matter what it takes. I'm just getting into the trial part, which doesn't really seem interesting yet. I feel like I'm really missing out on some important dialogue because everything is presented in Scout's POV. I also ordered an adult colouring book, some thin markers, and a tote that says "Books Are My Bag" because I can't stop myself.
Monday: Some days I feel like I did nothing, even though I'm sure I did something. Mostly I agonized over whether or not I should call someone because I know they would appreciate it, but the energy it takes to be that social just wasn't happening. I have two jobs where I have to be happy, polite, and outgoing all the time, so when I get a chance to finally have a quiet moment to myself it's hard to muster up the enthusiasm for a marathon chat session, even with the people I really really like!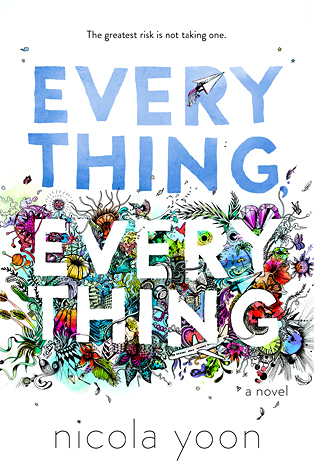 Tuesday: Received and read Everything, Everything by Nicola Yoon! I was SO excited to get this ARC. Since I get these books because I'm a bookseller and not because of my blogger status, I don't actually have to write anything back to the publisher, but I was compelled to say something this time. As soon as I was done I emailed my rep at Penguin Random House with a huge THANK YOU!
Wednesday: According to my coworker I am a mix between Anger and Sadness from the movie Inside Out. Since I haven't seen the movie yet I'm going to say that based on what I have heard it's fairly likely he is right. According to the Pixar wiki, Sadness isn't just the opposite of Joy, she's also practical, which is one of my defining traits. Anger likes to control things, which is also one of my personality traits. Maybe he just thinks that because he so often sees the angry side…
Thursday: Took off a little early from Job #2 to go get a blood test done. I'm applying to be a liver donor for my 2 year old niece but I need to know if our blood types are compatible. She has a rare genetic disease called Alagille Syndrome and was put on the liver transplant list a couple weeks ago. In relation to that, I also got a new fitness tracker because even if I am compatible I need to shed some weight before I will be an eligible donor. Right now I don't even know if we are compatible, but I might as well start my weight loss journey now while I'm feeling motivated. I started today with a few laps around the dog park, just to get myself warmed up.
Friday: Had the most boring day ever, stuck at work all day while everyone else got to enjoy the nice weather. I spent my afternoon babysitting bread (no that's not a typo) because nothing was planned at the community centre for the evening, so I just waited for people to come in to pick up the free bread we have available. At least it gave me some time to blog…
Saturday: Hubby and I went out to see Jurassic World in 3D at the VIP cinema again (cuz that's how we roll) and I think it needs to be said that humanity can't be that dumb! Not only was the first attempt at creating a dinosaur amusement park a huge disaster, but then the second site was compromised as well and also resulted in a bunch of deaths. I'm pretty sure that no safety authority in the real world would green light this disaster waiting to happen! Of course, my husband's response to that was "Well, then you aren't invited to come with me to the dinosaur park when they finally build it." I told him that I'd remember him fondly when he gets eaten by a t-rex.
What to look forward to on the blog this week:
Review: To Kill a Mockingbird by Harper Lee
TTT: The Last Ten Books That Came Into My Possession
Review: The Library at Mount Char by Scott Hawkins
5 books for the person who hasn't read a book in years