The Sunday Post is a weekly meme hosted by Kimba @
Caffeinated Book Reviewer that doesn't have a theme, per se, it's more of a weekly wrap-up. I'm going to use it to tell you about some of the other things I've done this week and give you a sneak peek at what's coming up on the blog next week!
---
Sunday: We went to my husband's grandparents place for dinner, as usual for a Sunday. His aunt and her family have a one-year-old puppy that absolutely loves our dog, but who still hasn't learned any dog manners. We basically have to run her like crazy until she finally passes out, or else she will torment our dog non-stop. Luckily we have the most chill dog ever, thanks to a lot of socializing at the dog park, so Cali just looks at us sadly as the dumb little doodle is bouncing around her.
Monday: I have no idea how the regular receptionist at Job #2 manages to stay awake every day while sitting at the front desk. I'm covering some of her shifts for the next couple of weeks and I might just go insane. At least I have all the communications stuff to do, but that only takes up so much time in the day. I've started making random infographs and doing social media scheduling so far in advance I'm going to put myself out of a job once I'm done.
Tuesday: It was Go Set a Watchman day and I got the privilege of putting it all out first thing in the morning. I ran around my store like a crazy person, hauling boxes, moving shelves, building displays. I was so ready for the hordes of people who would come rushing in when I opened the gates… and then we didn't sell a single copy in the first hour we were open. Sure, it picked up later, but that first hour made me really question the priorities of the citizens of this town.
Wednesday: With Go Set a Watchman out for a total of 24 hours, people are already asking me if I have read it. Sometimes I wonder what people think booksellers do all day. They know that we help them while they are in the store, but somehow everyone's perception of a librarian or bookseller is that we are all just sitting around reading all day. I have a life people… yes, I read a lot, but my job isn't reading. Sometimes I get advanced copies of books, but never books like this. Time for a meme!
Thursday: Such a hectic day because Job #2 was having our annual baseball tournament and I accidentally took home a key that they needed first thing in the morning. I woke up to frantic text messages, and was ready to jump in the car (in my PJs, if necessary), but luckily someone had a second key. So I was able to get dressed before heading in for work. We also had Add in fire alarm issues and our refrigeration guy coming at unacceptable o'clock, this day was just a disaster from one end to the other.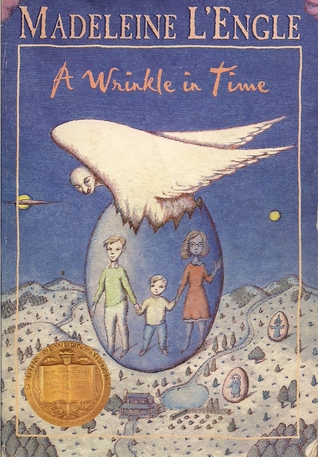 Friday: I was feeling nostalgic this week, so I decided to read A Wrinkle in Time by Madeleine L'Engle for the first time in 20+ years. The first time I read it I had to do a short video synopsis with the rest of my reading group. I led my ragtag group of kids (most of whom probably hadn't finished the book) in a 30 minute production in front of the class while our teacher kept making the motion for us to wrap it up. How he thought that we could fit all this book into a 5 minute video is beyond me still.
Saturday: I was supposed to go out with Elyse from Just Murrayed for another bookish adventure but family obligations came up, so instead I stayed home and helped hubby do some work for our handmade cutting board business, UnderTree Designs. He does the building, I do the web stuff, shipping, etc. We need to find some craft shows for the year and get the website fully stocked.
Coming up on the blog
Ten Books That Celebrate Diversity/Diverse Characters
WWW Wednesdays – July 22, 2015
5 books I've read more than once