WWW Wednesdays is a meme about your weekly reading habits that is hosted by Sam @ Taking On A World Of Words
Each week we answer the following three questions:
-What have you recently finished reading?
-What are you currently reading?
-What are you reading next?
---
Recently Finished:
Etta and Otto and Russel and James by Emma Hooper – I didn't know if I was going to like this book, but it has been sitting in my TBR pile for so long I figured it was time to drag it out. I was very pleasantly surprised. I didn't feel the need to skip through too much description, the action moved well, I found the characters engaging, and I was intrigued by the slightly magical aspects of it. It's another book in the "old people going for a walk to find themselves" genre that seems to be a trend these days, but it was still an interesting read. I will definitely recommend it to other people.
Currently Reading:
Homecoming by Cynthia Voigt – I was feeling nostalgic so I decided to re-read this book. I'm nearly done, but got distracted by other books (as usual) and will have to get back to it later. I'm not even close to the end yet, which is surprising for a middle grade book that isn't that big. I guess it's because it's just such a densely packed reading experience, and isn't nearly as fluffy as some of the other books I have been reading lately.
Congratulations, By the Way by George Saunders – I picked this book up at work and although it is tiny with really not much to say, I have yet to finish it because I had to get back to work. It's one of those books that I'll read a few pages of here and there, and finally finish on a break some day. It's another one of those commencement speech books that are popular for graduation gifts. I'll have to check out J.K. Rowling's speech next.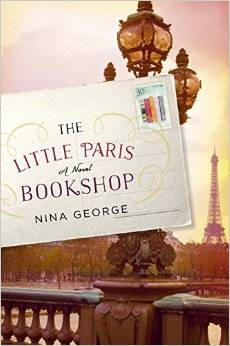 The Little Paris Bookshop by Nina George – I'm really enjoying this book so far. It's definitely a book for people who love books. Maybe I'm being a literature snob, but I feel like the average reader isn't going to get all the literary references peppered throughout the book without some serious Googling. I was telling a friend about this book the other day and actually had to say "This isn't the book for you" because she isn't a reader. The emotional connection to the characters would have been perfect, but the book-speak would have been too much.
Is Everyone Hanging Out Without Me? by Mindy Kaling – Let's not talk about it…
Reading Next:
Hopefully once I finish all the books I have on the go I can start reading something new. I'm thinking that it might be If I Fall, If I Die by Michael Christie. I like reading books about mental illness, and this features an agoraphobic mother.