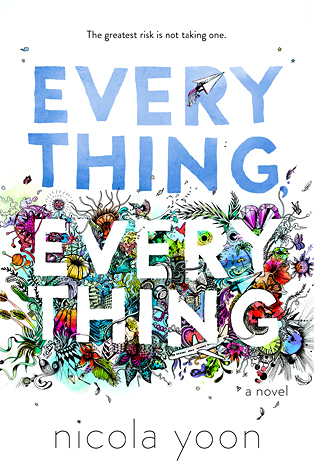 When I finally got an ARC of Everything, Everything by Nicola Yoon from the publisher I immediately dropped everything else I was doing to read it. Okay, so I had to sit through 4.5 agonizing hours at Job #2 before I could actually immerse myself in this wonderful book, but after that I didn't look up until the book was finished.
Synopsis: Maddy is deathly allergic to nearly everything and has spent the majority of her life stuck inside the house with only her mom and nurse for companionship. When a new family moves into the house next door her nurse is afraid she will become obsessed with watching them, as has happened in the past. Maddy soon finds herself drawn to the family's very cute son, Olly, who seems to be completely fearless. But how can they ever be friends when simply going outside could kill her?
I absolutely love the way this book has been written. It is part narrative, with emails, text messages, notes, and drawings contributing to the overall story. Olly and Maddy are these adorable teens that you can't help but like. I was rooting for them the whole book, hoping that they would figure out a way to hang out and get to know each other.
The fact that Maddy's mom and nurse are the only two people who she ever really interacts with in person made me more than a little concerned from the beginning. Only a few other people have been willing to go through the whole decontamination process to come see Maddy, and they don't seem to have any family who would visit. This means that no other doctors have come to see her since she was first diagnosed. At some point you would think that another doctor would have asked to examine her. It's not like Severe Combined Immunodeficiency (SCID) is a super common illness.
Anyway, I as you can probably tell, I really did enjoy this book. It was a fast-paced, fun, interesting, and easy read. I can't wait to be able to share it with my customers who like this kind of story. I think this could be a good book for people who don't read a lot, but who want to start reading more.
LC rating: 
 (great book)