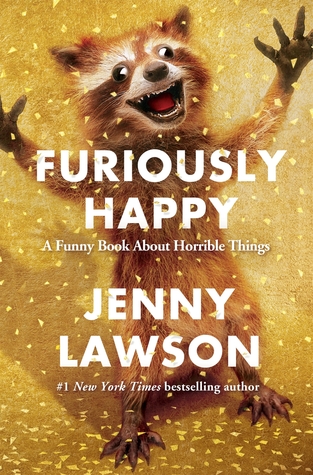 Jenny Lawson has done it again with Furiously Happy. I seriously adore this woman for her humour and honesty. Even though I follow along with her life on her blog (The Bloggess), I love reading and owning her books because there are always new stories and details that aren't available any other way.
Synopsis: This time Jenny writes about tackling her mental health demons, and how reaching out to people to share her story has profoundly changed her life. She shares the techniques that helped her get through some of her hardest times, and reaches through the darkness to those who believe they are suffering alone with depression, anxiety, or other mental illnesses.
I didn't even make it through the Author's Note in this book before I started crying. Jenny has a way of writing that makes you feel like you are sitting in a cafe listening to a long-time friend tell you a story. She truly wants people to see how special they are, and works hard to make sure that anyone struggling with mental illness doesn't feel alone.
Some of my favourite quotes are:
"Call me if something else medieval and torturous opens up. Like nipple waxing. Or bloodletting."
"It was like the Jesus-beach-footprint-in-the-sand poem, but with less Jesus and more bleeding."
"Don't just be some random person. Be the MOST random person."
I, along with hundreds of other fans, will be at Indigo Bay & Bloor in Toronto on October 20th to listen to her read her book and sign. I can't wait to go spend some time with that crazy tribe of people. Come join us, if you dare. I'll share pictures after the event, I promise!
LC rating:
(AWESOME!)