Wishlist Wednesday is a book blog hop hosted by Pen to Paper where you post about one book per week on your wishlist.
My own spin on it will be that it's a book that was just released this week.
---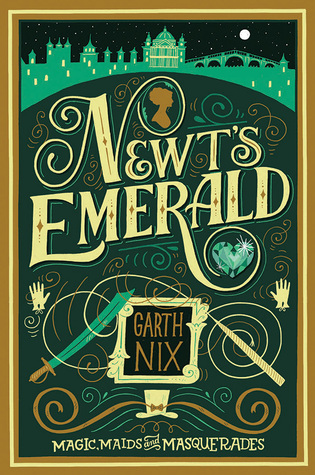 Wishing for: Newt's Emerald by Garth Nix
Quick Synopsis: Lady Truthful will inherit her family's most valued heirloom on her eighteenth birthday. Until the Newington Emerald is stolen.
Lady Truthful, nicknamed "Newt" by her boy cousins, discovers that to her horror, the people closest to her have been framed for the theft. But Newt won't let their reputations be damaged by rumours from a false accusation. Her plan is simple: go to London to recover the missing jewel. Despite her best intentions, a young lady travelling alone is frankly unacceptable behaviour. So Newt and her aunt devise another plan…one that entails men's clothing and a moustache.
Why I Want It: First off, awesome cover! Secondly, I've always wanted to read a Garth Nix book, but I never got around to it. This one looks like an interesting mix of magic and mischief that will keep This wme entertained. It's YA, so it has a bit more of a romantic twist to it (based on the Goodreads info) which reminds me of some of the steampunk stuff I have read.
What book did you add to your TBR list this week?