I was tagged for this by Charley over at Books and Bakes a while ago and am finally got around to it. I'm going to try to stick to picking books that I have read this year, which should help me limit my choices a bit.
---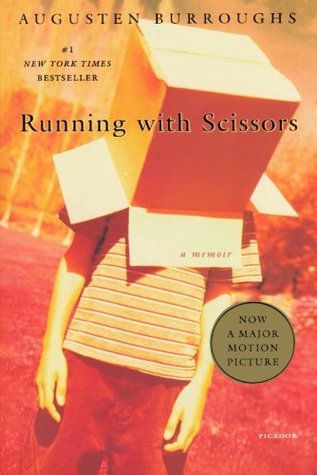 #1: Crunching Leaves: The world is full of colour. Choose a book that has reds, oranges and yellows on the cover.
I just read Running With Scissors a week ago, and technically I just listened to the audiobook on Scribd, so the cover wasn't featured, but it does cover all the bases for this prompt. Plus, how can you not enjoy a cover that has a kid wearing a box as the main feature?
#2: Cozy Sweater: It's finally cold enough to don warm cozy clothing. What book gives you the warm fuzzies?
The main theme in Pollyanna is accepting the things in your life that can't be changed and instead trying to look for the good in everything. Stubbed your toe? Just be glad that you had a toe to stub in the first place. Stuck in bed with a cold? Now you get to stay in bed with a book and some chicken noodle soup!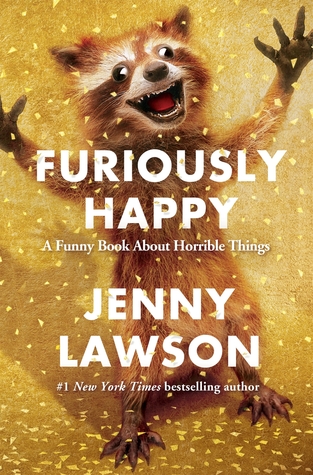 #3: Fall Storm: The wind is howling and the rain is pounding. Choose your favourite book OR genre that you like to read on a stormy day.
If the weather is trying to make me unhappy, what better way to combat it than to be FURIOUSLY HAPPY? I love reading books that are fun and happy when I'm stuck inside. It's like bringing a bit of sunshine into the house with me.
#4: Cool Crisp Air: Who's the coolest character you'd want to trade places with?
I think I would like to trade places with Winnie from A Dragon's Guide to the Care & Feeding of Humans. She's cute, spunky, and basically just hit the jackpot when she learns that not only are dragons real, but that there is a whole magical world just waiting to be explored. Plus, you know, being friends with a dragon with unlimited wealth would be nice.
#5: Hot Apple Cider: What under hyped book do you want to see become the next biggest, hottest thing?

The Long Way to a Small, Angry Planet! This book has so much potential to be huge, and yet so few people even know about it. I would love to see it on tables in book stores and get so huge that they make it into a TV show. There's a character for everyone to connect with, and I think it will appeal to a larger demographic than just sci-fi readers.
#6: Coat, Scarves and Mittens: The weather has turned cold and it's time to cover up. What's the most embarrassing book cover you own that you like to keep hidden in public?
From this year's reading list… I think it has to be Louise Trapeze Is Totally 100% Fearless, only because it is a book for early readers and I'm in my 30s, so people tend to look at me funny when they catch me reading things like this.
#7: Pumpkin Spice: What's your favourite fall time comfort food/foods?
Hmmm…. that's a hard one because I don't tend to eat food seasonally. This is the time of year when I start drinking more hot tea though, so I'm going to have to say the Coffee Pu-erh tea from David's Tea.
---
Once again I will leave the tagging up to you fine people. Do it if you wish, or not, it's your blog! Just please remember to link back to me so we can keep the chain going. 🙂