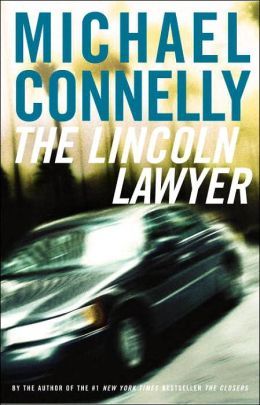 DISCLAIMER: I don't really read bestselling contemporary mystery novels. They just aren't my thing, so reading this was a bit of a challenge for me. I decided to read Michael Connelly's Lincoln Lawyer because it has had such high reviews on Goodreads, and because it seemed like the most accessible book for a first time Connelly reader.
Synopsis: Mickey Haller has landed a whale. His newest client has lots of money and seems to be completely innocent, so this case is basically a walk in the park. But as his detective uncovers more about the case, Mickey begins to wonder if his client has been lying to him from the very beginning.
Before we move on, I just have to say "THE BRIEFCASE!" This accessory became the bane of my existence while reading this book. During Mickey's court trial there were a number of times where Connelly indicated that something weird was happening with his briefcase. It was always "sitting open" during discussions about key pieces of evidence, when police officers were just a breathe away. It was heavy with a laptop and paperwork… while talking about some misplaced evidence. One can only assume that at some point the missing evidence would be found IN THE BRIEFCASE! But no… this doesn't happen… and I wanted to scream! Authors who focus on particular pieces of the setting, especially mystery authors, usually have a reason for it. I swear Connelly was just using it as a way to torture all of us!
Anyway, this was a book that kept me reading, but I don't know if I'll pick up another book by this author. I just wasn't thrilled with his writing style. Since this wasn't his first book by any stretch, I can only assume that this is just the way he writes his books. I can see why people like his books, because it was a fast paced story with a lot of twists and turns, but there was something too simplistic in the setup and resolution for me. That's purely a personal opinion though.
My favourite part of this book is the characters. I like that Mickey truly respects the people in his life, including his ex-wives and those who work for him. He drinks, but isn't an alcoholic; he still cares about justice, even after all these years being a defense lawyer; he's a good guy, while being surrounded by criminals. He wasn't the cliche character that I was expecting.
I'm sure I've seen the movie, but I can't recall anything about it. I think I want to watch it again just to compare the two. I don't know which one will be better (because there are a few times when the movie is actually better than the book) but it could be a tie. If enough of the things I didn't like were changed, but the pace and characters were still intact I bet it's pretty good.
LC rating:
(it was okay)
Have you read any of Michael Connelly's books? Which one would you recommend?