These days it seems like authors are intentionally creating the most convoluted titles for their books. The Hundred Year Old Man Who Climbed Out the Window and Disappeared may have been the first one, but now we have The Extraordinary Journey of the Fakir Who Got Trapped in an IKEA Wardrobe and The Little Old Lady Who Broke All the Rules.
---
Enclave – I'm actually rather surprised that more people aren't reading this series, because it isn't just another YA dystopian novel where kids are struggling to survive. This one also has zombies! This one has a bit of a Lord of the Flies thing happening because all of the people living underground rarely make it beyond their twenties. With no natural light, creepy things hunting you in the dark, turf wars, and barely any food, surviving in this world is nearly impossible.
Butter – I actually don't know anyone who has read this book. I got it as an ARC a couple of years ago and was drawn into the sad tale of a boy who only wants to fit in but is body shamed by his entire school. His desire to be seen drives him into a desperate act of self-destruction that he will broadcast online for everyone to witness. This was such a sad and honest book about the affects of bullying, and I really hope more people read it.
Aurian by Maggie Furey – This is the first in an epic fantasy quartet that is old enough that I'm pretty sure most people have no idea who the author is, let alone the series. I absolutely love the characters in this series, and the world building only gets better as the story progresses. There are many different types of magic users in this series, which is a refreshing change from the standard of there being only tiny number of super special people who can use magic and they are the best ever at everything! 😉
Magyk by Angie Sage – I regularly recommend this series for kids who have finished the Harry Potter books and need a new series that is still age appropriate. There are dragons and magic and time travel and a dozen other crazy elements to keep an adventure hungry kid excited with this series. There are seven books to keep an avid reader happy for quite some time, and they are all fairly thick books which will make any kid feel like a super star reader without overwhelming them with content that is too mature.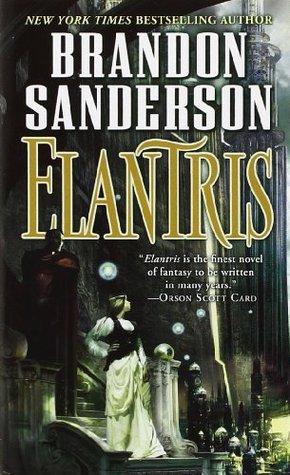 Elantris by Brandon Sanderson – Since finishing Robert Jordan's Wheel of Time series, Sanderson has become a well-known name in the fantasy genre, but a lot of people only know about his Mistborn series. This was the first book that I read of his and I really enjoyed it. It's a stand-alone, which is rare in the genre, and it had a few twists that really kept me interested. It is a blend of fantasy and dystopia that you don't see often in books right now.
---
  Tell me, what are your favourite books with one word titles?