My TBR list is practically a living and breathing thing at this point, so I decided to focus on the books that I acquired recently instead of those that I just added to the list. I'm also going to skip the ones that I talked about in last week's post and have already picked up, and I can't seem to keep up with all the ARCs from publishers so I'll just have to talk about the rest in my monthly wrap-up.
---
13 Ways of Looking at a Fat Girl by 
Mona Awad – This was an unexpected acquisition from Penguin Random House. I love when publishers send me things! I saw this book mentioned online a little while ago and thought it looked interesting, but wasn't sure if or when I would get the chance to read it.
Synopsis: Growing up in the suburban hell of Misery Saga (a.k.a. Mississauga), Lizzie has never liked the way she looks—even though her best friend Mel says she's the pretty one. She starts dating guys online, but she's afraid to send pictures, even when her skinny friend China does her makeup: she knows no one would want her if they could really see her. So she starts to lose. With punishing drive, she counts almonds consumed, miles logged, pounds dropped. She fights her way into coveted dresses. She grows up and gets thin, navigating double-edged validation from her mother, her friends, her husband, her reflection in the mirror. But no matter how much she loses, will she ever see herself as anything other than a fat girl?
The Widow by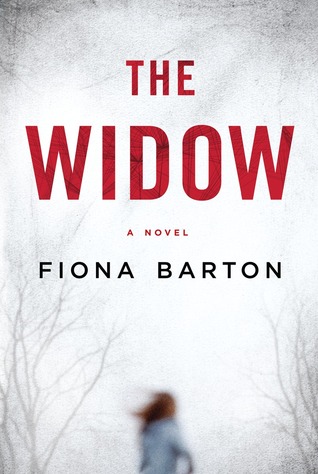 Fiona Barton – This one is an ARC that I got in the mail from Penguin Random House in one of the best marketing packages I've seen in a while. They send the book in an evidence bag, with a small pack of Skittles inside. If this doesn't intrigue you, then the premise of the book might.
Synopsis: There's a lot Jean hasn't said over the years about the crime her husband was suspected of committing. But now that her husband is dead, there's no reason to stay quiet. The truth—that's all anyone wants. But the one lesson Jean has learned in the last few years is that she can make people believe anything…
The Secret Fiend, The Dragon Turn, and Becoming Holmes by
Shane Peacock – I started the Boy Sherlock Holmes series last year but never finished. Kobo had the whole series on sale so I figured it made sense to get all of them at a good price. Hopefully I can get a chance to read them soon.

Synopsis: It is 1868, the week that Benjamin Disraeli becomes Prime Minister of the Empire. Sherlock's beautiful but poor admirer, Beatrice, the hatter's daughter, appears at the door late at night. She is terrified, claiming that she and her friend have just been attacked by the Spring Heeled Jack on Westminster Bridge and the fiend has made off with her friend. At first Sherlock thinks Beatrice simply wants his attention, and he is reluctant to go back to detective work. He also believes that the Jack everyone fears is a fictional figure. But soon he is suspicious of various individuals, several of them close friends.
Synopsis: Summer 1869, and Sherlock Holmes and his friend Irene celebrate her sixteenth birthday by attending the theater to watch a celebrated magician make a real dragon appear on stage. It is the London sensation. Sherlock and Irene meet the magician, Alistair Hemsworth – just as he is arrested for the murder of his rival, The Wizard of Nottingham. It seems that traces of the missing Wizard's blood and his spectacles were found in Hemsworth's secret studio. Hemsworth has a motive: not only is the Wizard his rival, but he also caused a scandal when he lured Hemsworth's wife away. But is Hemsworth guilty? Sherlock has his doubts, and soon, so does the reader.
Synopsis: It is the summer of 1870 in London, and death seems to be everywhere; at least it feels that way to Sherlock Holmes. Almost seventeen now, he cannot shake the blackness that has descended upon him: he has lost his dear father; his mentor, Sigerson Bell, is growing gravely ill; Irene Doyle, the object of his affections, has left for America; his longtime admirer, Beatrice Leckie, has chosen another suitor; and the death of the great Charles Dickens fills the city with an impending sense of doom. And out there somewhere in that darkness, Sherlock's great enemy, the villainous Malefactor, is spinning his web of evil, planning who knows what. Only one thing can rouse the young detective from the depths of despair: the possibility of justice. Through information gleaned from his brother, Mycroft, Holmes uncovers a new and terrible plot unleashed by his nemesis. Malefactor has infiltrated the British government, employing his nefarious agents, Grimsby and Crew, to help him begin his ascent to complete control. Prepared to do anything to stop this criminal infestation, Sherlock sets out to destroy his rival and bring down him and his henchmen–once and for all. He soon sets off on a twisting trail of death and desperation that eventually leads him to a legendary, abandoned graveyard in the heart of the city. Everything in the brilliant boy's life changes as death knocks again…. But in this shocking and spine-tingling conclusion to the series, Sherlock Holmes transforms, becoming the immortal master of criminal detection.
Illusionarium by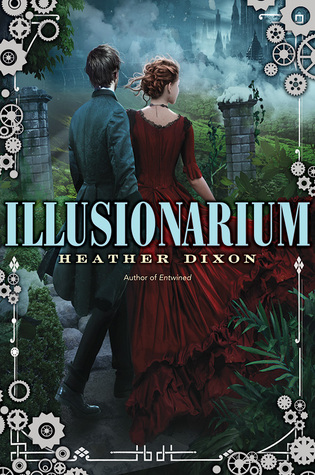 Heather Dixon -I'll admit, I bought this one almost completely based on the cover. I was looking for deals on the Kobo site and this one was such a good deal and had such a pretty cover that I had to check it out. I'm very curious about the reference to Pixar movies in the Goodreads synopsis… this could be a weird ride.
Synopsis: Jonathan is perfectly ordinary. But then—as every good adventure begins—the king swoops into port, and Jonathan and his father are enlisted to find the cure to a deadly plague. Jonathan discovers that he's a prodigy at working with a new chemical called fantillium, which creates shared hallucinations—or illusions. And just like that, Jonathan is knocked off his path. Through richly developed parallel worlds, vivid action, a healthy dose of humor, and gorgeous writing, Heather Dixon spins a story that calls to mind The Night Circus and Pixar movies, but is wholly its own.
Slade House by
David Mitchell – One of my coworkers received an ARC of this book and it looked so interesting that I knew I was going to have to read it at some point. I haven't read anything by David Mitchell before, although he has written some books that fall into genres that I would normally pick up. There's something about this creepy haunted house story that has me itching to read it…
Synopsis: Down the road from a working-class British pub, along the brick wall of a narrow alley, if the conditions are exactly right, you'll find the entrance to Slade House. A stranger will greet you by name and invite you inside. At first, you won't want to leave. Later, you'll find that you can't. Every nine years, the house's residents—an odd brother and sister—extend a unique invitation to someone who's different or lonely: a precocious teenager, a recently divorced policeman, a shy college student. But what really goes on inside Slade House? For those who find out, it's already too late. . . .
Peregrine Harker & The Black Death by
Luke Hollands – This reminds me of the Young Sherlock Holmes books I read last year. It looks like it might have a bit of a steampunk overtone to it as well, which is right up my alley.
Synopsis: London 1908: A secret society stalks the murky streets, a deadly assassin lurks in the shadows and a series of unexplained deaths are linked by a mystery symbol… When boy-detective Peregrine Harker stumbles across a gruesome murder he sparks a chain of events that drag him on a rip-roaring journey through a world of spluttering gas lamps, thick fog, deadly secrets and dastardly villains. Every step of Peregrine's white-knuckle adventure brings him closer to the vile heart of a terrifying mystery – the true story behind the Brotherhood of the Black Death.
Art in the Blood: A Sherlock Holmes Adventure by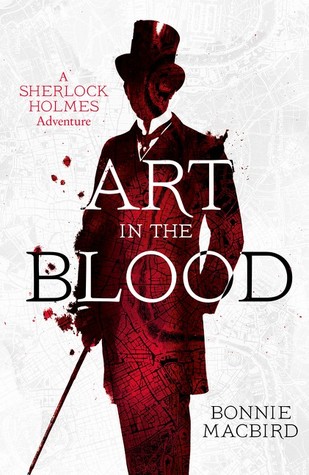 Bonnie MacBird – I've been meaning to read a Sherlockian novel for a while, and this one struck a cord with it's artistic theme. This seems to be the highly eccentric Sherlock that we have come to enjoy from recent reboots like Benedict Cumberbatch and Robert Downey Jr., which is more my style than the original gentleman.
Synopsis:Sherlock Holmes, 34, is languishing and back on cocaine after a disastrous Ripper investigation. Watson can neither comfort nor rouse his friend – until a strangely encoded letter arrives from Paris. Mlle La Victoire, a beautiful French cabaret star writes that her young son has vanished, and she has been attacked in the streets of Montmartre. Racing to Paris with Watson at his side, Holmes discovers the missing child is only the tip of the iceberg of a much larger problem. The most valuable statue since the Winged Victory has been violently stolen in Marseilles, and several children from a silk mill in Lancashire have been found murdered. The clues in all three cases point to a single, untouchable man, an art collector seemingly beyond reach of the law.
H is for Hawk by
Helen Macdonald – Ever since seeing the cover of this book I've been intrigued, so when I saw the ebook on sale I decided it was time to take the plunge. I didn't read any science/nature themed books last year, so this is part of my attempt to make up for that lack.
Synopsis: When Helen Macdonald's father died suddenly on a London street, she was devastated. An experienced falconer, Helen had never before been tempted to train one of the most vicious predators, the goshawk, but in her grief, she saw that the goshawk's fierce and feral temperament mirrored her own. Resolving to purchase and raise the deadly creature as a means to cope with her loss, she adopted Mabel, and turned to the guidance of The Once and Future King author T.H. White's chronicle The Goshawk to begin her challenging endeavor. Projecting herself "in the hawk's wild mind to tame her" tested the limits of Macdonald's humanity and changed her life.
---
Top Ten Tuesday is a weekly meme hosted by The Broke and the Bookish