There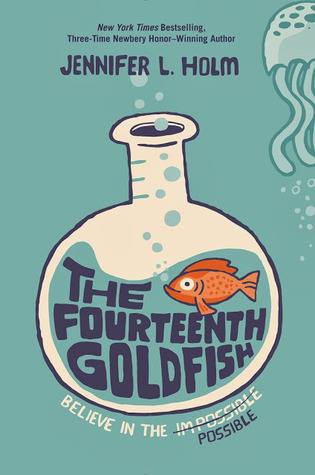 was something about the title of this book that made me curious, so I decided to read this cute middle-grade book while on my break at work. I needed to know… who, or what, was the The Fourteenth Goldfish! Is it just a goldfish, or is it more?

Synopsis: Sixth grade is a big change for anyone, but for Ellie it is when her entire world changed completely. Her best friend isn't around so much anymore, her goldfish died, and now there's a weird teenage boy sleeping on their the pullout couch who might just be her grandfather who discovered how to reverse the aging process! Wait… what????
This was a really fun read, full of interesting bits of scientific history and a good deal of humour. I think it's great that Ellie is introduced to the world of science just when she was beginning to think she was an oddball for not being interested in the arts like her parents. With Melvin leading the way, she learns about many different scientists and how even the most mundane parts of our day can in fact be attributed to scientific discovery.
I think this would be a great book for any kid who is having trouble keeping up with their peers. Ellie's best friend has begun to move on and find new friends, leaving her to fend for herself in a new school. Instead of sinking into herself, Ellie starts connecting with new people who have similar interests and finding out more about herself and her family.
LC rating:
(cute book, encourages girls to explore STEM fields)