In hopes of ever conquering TBR mountain (but still feeding my need to try out many different books) I have started downloading previews on my Kobo before I actually buy something. This has done very little to stop me from adding new titles to my list though, because ALL of the books I read in May were also either purchased or borrowed this year. I have a problem.
Tally: 10 novels, 4 graphic novels
---
Read
A Lady in the Smoke: A Victorian Mystery by Karen Odden – This was a fun Victorian mystery that had a bit of romance, and some great characters. There were a lot of twists and turns in the story, and I really had no idea who the bad guy was going to be until a reasonable ways in.
Synopsis: Following a humiliating fourth Season in London, Lady Elizabeth Fraser is on her way back to her ancestral country estate when her train careens off the rails and bursts into flames. When Paul, a brilliant young railway surgeon, saves her mother's life, he also reveals that the train wreck was no accident.
A Captain and a Corset (Steam Guardians, #2) by Mary Wine – I'm really sad that this series doesn't seem to be continuing, because I thought it was really good. I doubt I'll read anything else from this author because most of her other stuff is historical romance and I'm not that interested. There's still a story to be told with this series, so I can only hope that one of these days she gets back to it. Check out my review HERE.
Synopsis: For Sophia Stevenson, there's no going back to the life she knew. She never asked for the powers that make her a precious commodity to the secret society of Illuminists—and their archenemies. Captain Bion Donkova would give anything to possess the powers that have fallen in Sophia's lap. If only the beautiful, infuriating woman could stay out of trouble, he wouldn't have to keep coming to her rescue…
Be Frank With Me by Julia Claiborne Johnson – This adorable book is one of my new favourites. I think it would be a great read for anyone who enjoyed The Curious Incident of the Dog in the Night-Time, or A Man Called Ove.
Synopsis: M.M. (Mimi) Banning wrote one book that took the world by storm and then promptly locked herself away from society and never published again. Now Alice, a young assistant sent by the publisher, has been tasked with helping Mimi in any way necessary to produce another book, including being a nanny for the mysterious Frank, a child no one even knew existed. Tasked with keeping things under control while Mimi locks herself away to write, Alice has to learn the rules of this strange house quickly, because Frank is unlike any other 9-year old boy she has ever met.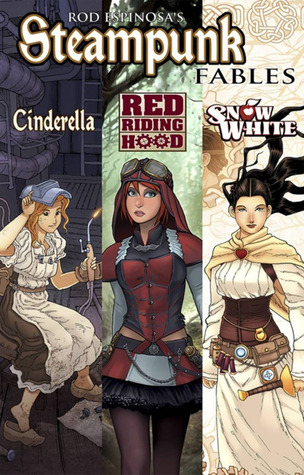 Rod Espinosa's Steampunk Fables by Rod Espinosa – As mentioned in my TTT post earlier this week, I really love steampunk books. I thought this would be a fun read to see how a graphic novel artist would interpret these fairy tales. The art is lovely, but the stories didn't live up to what I had hoped for.
Synopsis: My, Grandma, what a big gears you have! (All the better to grind you with, my dear!) My, Grandma, what a big boiler you have! (All the better to cook you with, my dear!) My, Grandma, what a big Tesla blaster I've got! (Er…) 
Lumberjanes #1-18 by Noelle Stevenson – I started this series a while ago on Scribd but found the beginning really confusing. I decided to go back to it on a really boring weekend and ended up binge reading 18 issues with no trouble. The story definitely picks up and becomes easier to understand with each new issue.
Synopsis: A group of girls at summer camp keep getting attacked by monstrous creatures for some unknown reason. Using a combination of ingenuity and luck, the girls face these dangers head on while trying to solve the mystery of their weird camp while earning a few badges along the way.
In Real Life by Cory Doctorow & Jen Wang – One of my coworkers told me I should read this graphic novel on my lunch break, so I flipped through it while munching on my salad. Although there are some positive lessons to be learned from this story, I have an issue with the white privilege that isn't acknowledged well enough in the comic.
Synopsis: A young girl who doesn't fit in well at school joins an online gaming group, but soon learns that even in a make-believe world there are real world problems lurking around every corner.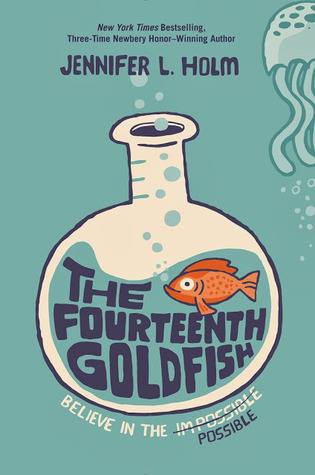 The Fourteenth Goldfish by Jennifer L. Holm – I'm always drawn to any book that has a turquoise cover… I don't know why. The premise of this book was so weird that I had to give it a try, and I have been recommending it to customers at my store every since. This is a great book to get kids interested in the sciences.
Synopsis: Sixth grade is a big change for anyone, but for Ellie it is when her entire world changed completely. Her best friend isn't around so much anymore, her goldfish died, and now there's a weird teenage boy sleeping on their the pullout couch who might just be her grandfather who discovered how to reverse the aging process! Wait… what????
The Wild Robot by Peter Brown – I think Peter Brown's storybooks are adorable, so I had to check this book out. I was actually surprised that it's a full on middle-grade novel, and wasn't prepared for how mature some of the themes in it are. Overall, I still loved the book and really hope there is a sequel so I can find out what happens to Roz next!
Synopsis: When Roz wakes up alone on an island she isn't sure how to survive in the wilderness, and all the animals either try to hurt her or run away. Unsure how to convince the animals around her that she is friendly, Roz sets out to learn the ways of the wild… with some interesting results.
Wink Poppy Midnight by April Genevieve Tucholke – This was a case of cover-love gone right. I really enjoyed this messed up YA story full of unreliable narrators and teen angst.
Synopsis: Wink is the weird girl from a big family with a mom who reads palms and tarot cards. Poppy is a queen bee, surrounded by her adoring fans but still so alone. Midnight is the quite boy caught between these two very different girls.
Slade House by David Mitchell – This book caught my eye a while back but I only decided to read it recently on a whim when nothing else was interesting me. I think you should probably read The Bone Clocks before reading this book, just for some context about the world that this book is set in. It's still good as a stand-alone, but I think your reading experience will be richer for the added information.
Synopsis: Down the road from a working-class British pub, along the brick wall of a narrow alley, if the conditions are exactly right, you'll find the entrance to Slade House. A stranger will greet you by name and invite you inside. At first, you won't want to leave. Later, you'll find that you can't. Every nine years, the house's residents—an odd brother and sister—extend a unique invitation to someone who's different or lonely: a precocious teenager, a recently divorced policeman, a shy college student. But what really goes on inside Slade House? For those who find out, it's already too late. . . .
The Unmapped Sea by Maryrose Wood – I'm so ready for this series to be done, but I still have one more book to go! I desperately want to know all the secrets of the Incorrigable Children and Miss Lumley and the Ashtons. It's driving me nuts that I have to wait!
Synopsis: Lady Ashton's pregnancy has been a huge burden on the entire household, mainly because her demands are completely unreasonable. In an effort to keep her happy, and maybe learn a bit more about the Ashton family secret, everyone sets out to Brighton on vacation… even though Lady Ashton thinks they are going to Italy. Miss Lumley and the children make the most of their time away from home, all the while hoping they can discover the cure for Lord Ashton's mysterious hereditary illness before the baby is born.
Fortunately, the Milk by Neil Gaiman – I actually got the chance to listen to Neil Gaiman read from this book at one of his last visits to Canada, but then I just forgot about it for a while. So seeing it on Scribd during one of my weekend binge reads felt like a sign. It was a fun read, but not the best of Gaiman that I have read.
Synopsis: You know what it's like when your mum goes away on a business trip and Dad's in charge. She leaves a really, really long list of what he's got to do. And the most important thing is DON'T FORGET TO GET THE MILK. Unfortunately, Dad forgets. So the next morning, before breakfast, he has to go to the corner shop, and this is the story of why it takes him a very, very long time to get back.
Runaways, Vol. 1-10 by Brian K. Vaughan – This was another Scribd find for a long boring weekend. I flew through the first 10 volumes, and although I think the first story line when the kids are fighting their parents is the best, the rest of the series has still been really interesting. I may read more if it comes available later, but I'm also okay with ending things now.
Synopsis: Six young friends discover their parents are all secretly super-powered villains Finding strength in one another, the shocked teens run away from home and straight into the adventure of their lives – vowing to turn the tables on their evil legacy.
Ink and Bone (The Great Library, #1) by Rachel Caine – I've finally got a chance to read this book at the very end of the month. I can't wait for the second book in the series to come out because I really enjoyed the world that Rachel Caine has created.
Synopsis: In an alternate history where the Library of Alexandria never burned, this great repository of knowledge has become both powerful and ruthless. The Great Library is now a presence in every major city, governing the flow of knowledge to the masses. Alchemy allows the Library to deliver the content of the greatest works of history instantly—but the personal ownership of books is expressly forbidden.
Jess Brightwell believes in the value of the Library, but the majority of his knowledge comes from illegal books obtained by his family, who are involved in the thriving black market. Jess has been sent to be his family's spy, but his loyalties are tested in the final months of his training to enter the Library's service.
Unfinished
Worlds of Ink and Shadow  by Lena Coakley – Sadly, this is the first book of the year that I have officially had to put in the DNF pile. I love the cover, I love the idea, but I obviously haven't read enough of the various Brontë siblings' works to become immersed in this story. I felt like I was thrown into the middle of a very confusing half historical/half fantasy family drama that needed a lot of backstory that wasn't provided. This is definitely a book for Brontë fans, but just can't translate for those of us who have only ever read Wuthering Heights.
Added to TBR Mountain