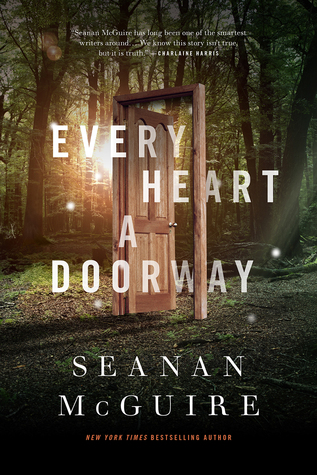 Has anyone else ever wished that they would someday find a magical doorway that would lead them to a world that was perfectly designed for them? I think reading books like Alice in Wonderland and Chronicles of Narnia have ruined me for the real world. Well now I can add Every Heart a Doorway to that list.
Synopsis: Nancy is the new girl at Eleanor West's Home for Wayward Children, a boarding school for children who were called into alternate universes but are now back in the real world and desperately want to return to the amazing lands they once called home. Her parents don't believe her, saying that her stories are a way of coping with the trauma of being kidnapped. They think that the school is there to help Nancy understand the reality of her situation, but Elly West knows better. She went through her own doorway many years ago, and hopes to help each of her students find their way back to the worlds that called to their souls.
This book is quite short, and is really a novella at just under 200 pages. I'm a little miffed at that because there are supposed to be two more books afterwards, which would mean that all together they might total 500-600ish pages. Why couldn't the author and publisher just wait for the story to be finished and print one or two regular sized books? Why do all forms of media have to be broken up into bite-sized pieces these days? Is it a cash grab? Is it because people have limited attention spans?
"We notice the silence of men. We depend upon the silence of women."
― Seanan McGuire, Every Heart a Doorway
The quote above really resonated with me in a way that doesn't happen often when I'm reading. It comes at the end of an explanation about why there aren't more boys at the school, and I just felt like it was so very very true. It reminded me of a conversation earlier in the day with a coworker about the missing Aboriginal women all across Canada, and how little is being done to find them.
Anyway, back to the book review… While I enjoyed reading the book it felt there was a lack of world building that really would have helped establish things. Nancy is given a bare-bones introduction to the different ways to categorize the worlds that the children came from, but it's all a bit confusing. The main plot of this story takes over any possibility of learning more about the worlds, so you are left with a vague idea of where each child came from and what their motivations might be. This is a murder mystery inside of a fantasy story, so I want clues!
Even with all the exclamation points throughout this review, I still really liked the book and will be reading the others when they come out. If you are a fan of the mysterious magical world genre you should definitely check this out. The writing is beautiful, if a little creepy, and the characters are interesting. And for the first time ever, all the characters that I really didn't like got what was coming to them.
LC rating:
Other series by this author: