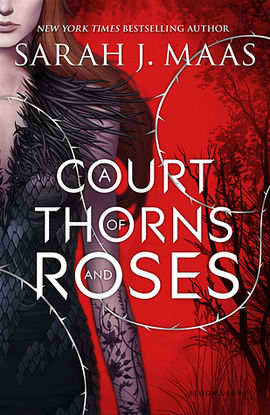 So I finally caved and started reading this series, and I curse you all for not making me read A Court of Thorns and Roses earlier! I love a good fairy tale retelling, and this version of Beauty and the Beast definitely has me hooked.
Synopsis: Feyre has been looking after her family ever since they lost their fortune, even though she is the youngest. She is the only one with the courage to go out into the forest and hunt for their food, and receives little thanks for it. After killing a wolf that she thinks may have been one of the evil faerie folk in disguise, she doesn't realize that she will have to face the consequences. When a giant beast crashes through their door to demand retribution, her only recourse is to go with him to save the lives of her father and sisters. Trapped beyond the wall that separates the human world from that of the faerie, at first Feyre wants nothing more than to escape… except now she thinks that she might be falling for the mysterious masked man who stole her away from a life of starvation and unhappiness.
I successfully managed to avoid all spoilers about this series by being completely and utterly uninterested in it until very recently. The crazy fandom on Instagram and Tumblr for A Court of Mist and Fury finally got me wondering what the big deal was, so I downloaded the e-book one night and then spent the next two days annoyed whenever I had to do anything other than read it. At first I thought that this might be more of a Cinderella story because Feyre's sisters are this/close to being totally evil, but then the beast showed up and it was pretty obvious that we had a Beauty and the Beast situation on our hands. And I have to say… sometimes I was a little annoyed at that. The flow of the story was so predictable at times that it was only towards the end that I felt like I was actually reading a different story.
"I love you,' he whispered, and kissed my brow. 'Thorns and all."
― Sarah J. Maas, A Court of Thorns and Roses
Can we please take a moment to talk about the sex in this book? Like… wow… are parents really okay with their teens reading this stuff? I totally understand that kids are more mature today, have pretty much seen it all, and have probably all taken a peek at Fifty Shades of Grey, but I feel like a book with this level of mature content doesn't belong in the same section as books that are written for 13-year-olds. I'm actually scared that I sent this book home with some unsuspecting mom because I wasn't aware of how mature it really was!
Anyway, mature content aside, at this point I'm not really sure why everyone has such a big problem with Tamlin, but I'm sure that will become obvious in the next novel. Sure, he seems like a bit of a tool, especially when things get bad and he just sits there. For a guy who is supposed to be one of the most powerful faeries in existence, he sure sucks at being a hero. I actually really like Lucien and hope that he remains part of the overall plot line because I think he is a far more interesting character than some of the others. Maybe Feyre can get rid of Tamlin and run away with the kinda steampunk-y Lucien… holy crap I think I just had my first "ship"! Hahaha!
I'm looking forward to reading the next book to see what else Maas has in store for these characters. According to the world it's an even better book than the first, so this should be a lot of fun to read. 🙂
LC rating:
(great beginning to the series, Lucien/Feyre shipped!)
Other books by this author: