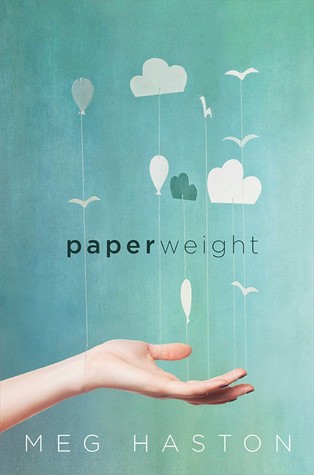 I've continued my "teens with mental health issues" reading binge with Paperweight, a story about a girl with an eating disorder. This is one of the more serious books I've read this year, but it was worth the heartache and cringing.
Synopsis: Stevie's parents have sent her to a treatment centre to deal with her eating disorder, but what they don't realize is that she will be gone long before anyone can force her to "get better". The Anniversary is coming soon, and she is ready to pay with her life to atone for her misdeeds.

This book was painful to read, but for all the right reasons. Stevie isn't exactly a likable character, but her pain is so real and raw that you can't help but get pulled into her story.
What I like about this book is that Stevie's journey towards healing isn't sudden. She fights the whole way and slips up all the time. She isn't magically cured through the power of friendship, or even drugs and therapy. She is constantly on the edge of slipping one way or the other and you never really know where she is going to end up.
I kind of wish there was more information about the other girls in Stevie's cabin. While Ashley's story gets more attention, the other girls never really got to explain what brought them to the treatment centre. I get that the story is really about Stevie and her journey, but I think it would have rounded out the rest of the cast better if we knew more about them. As it stands, the secondary characters felt a bit wooden and underdeveloped.
Overall, it was a really interesting and eye opening read. I wouldn't recommend it to anyone who is suffering from the affects of any type of trauma as there are a lot of triggers, but I think it would be a great read for someone who is struggling to understand a friend or family member with an eating disorder or PTSD.
LC rating:
(liked it, but was also hoping for more)