Sorry for being absent so long, my readers. I have not abandoned blogging, but I'm finding it harder and harder to find time to do it these days. I'm going to try harder to at least write a review or two whenever I can. Months can go by so fast this time of year.
Today's post is a list of 5 of my favourite books published this year.
---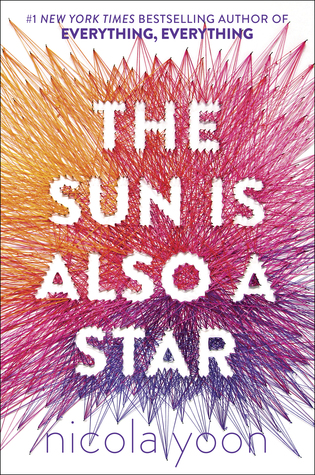 The Sun Is Also a Star by Nicola Yoon – Although I have an ARC of this book, I decided to listen to it as an audiobook instead. I am so glad I did, because the readers for this book were all amazing. I enjoyed this book so much that I passed my ARC to a couple of co-workers just to share the loveliness that is this story.
Synopsis: Natasha, who is on a mission to save her family from being deported in the next 24 hours, runs into Daniel, who is on his way to an admissions interview for a college program he isn't sure he wants to attend. The chemistry between the two is obvious from the beginning, but how can a young couple who have only known each other for hours stay together when their respective fates seem to be sealed?
A Closed and Common Orbit (Wayfarers, #2) by Becky Chambers – I confess that I ordered this book from Book Depository the moment I realized that it wouldn't be available for me in Canada until January. This is sociological speculative fiction at it's best, akin to classics like I, Robot and The Chrysalids. These books aren't driven by action and adventure, but instead by character development and social commentary.
Synopsis: Lovelace is designed to be the artificial intelligence housed within a long-range space vehicle, but instead her consciousness has been uploaded to an illegal human-form chassis and now she must learn an entirely new way of interacting with the world around her. Her companion, Pepper, has had personal experience with AIs before, but being stuck in a single body when you are programmed to command an entire ship is proving more difficult for Lovelace than anyone could have expected.
A Court of Mist and Fury (A Court of Thorns and Roses, #2) by Sarah J Maas – It rarely happens, but somehow Maas managed to write a second book that is better than the first. I was so happy to see that the very obvious Beauty and the Beast retelling was over and that a new story was being told.
Synopsis: After Feyre's dramatic and traumatic face-off with the evil Amarantha, she doesn't really feel like the smiling faerie princess that everyone wants her to be. She's finally able to be with Tamlin, but he seems determined to keep her locked away "for her own safety" even though it is driving her insane. After three months with no word from Rhysand, everyone begins to think that he won't come to collect her for their deal, until he suddenly appears in the middle of a rather important ceremony to whisk her away. And although Feyre isn't sure he can be trusted, she's suddenly feeling more free than she has since coming back from under the mountain.
The Female of the Species by Mindy McGinnis – The very first line of this book captured my interest, and I was totally hooked by the end of the first chapter. This is a no-holds-barred look at vicarious trauma, rape culture, and the desire for retribution.
Synopsis: Alex Craft's older sister, Anna, was murdered three years ago and the killer walked free, so Alex took matters into her own hands. While her crime goes unpunished, the rage behind it remains, leaving her afraid to be part of normal society. But even as she tries to remain in the shadows, there are people who notice her and want to be friends. Can she go back to being a normal girl, or will the killer inside her come out again?
Beast by Brie Spangler – As you all know, I'm a sucker for a pretty cover. Add in a fairy-tale retelling and I'm pretty much going to throw my money at you. This book is even better than I expected, because it wasn't just a simple "beauty and the beast" retelling. This book is about acceptance, love, and personal truth. It's definitely one of my favourites of the year.
Synopsis: When Dylan wakes up in the hospital after falling off the roof, he is sure that things can't get worse. He already gains enough attention being the tallest, strongest, and hairiest kid at school, and now he's stuck in a cast too. While at a mandatory group therapy session at the hospital, Dylan spaces out, only to be called out by the prettiest girl there. Jamie is different from all the other girls at school, and makes him feel like he isn't such a beast,
Special Mention
Penguin Problems by Jory John – One of my coworkers read this aloud at our holiday meeting and it was absolutely hilarious. I highly recommend reading it as if you are Chandler Bing, because that just makes the penguin even more funny for those of us old enough to appreciate it.
Synopsis: Life is tough for a little penguin. But how are you going to understand penguin problems when you aren't even a penguin?