I'm going on vacation at the end of the month, and I want to make sure I have a number of different reading options while I'm attempting to both bask in and hide from the sun. UV rays and I have a complicated relationship.
---
Middlegrade Book
The Bonaventure Adventures by Rachelle Delaney: This ARC was left for me by my lovely coworkers with a note that read "Amanda! We think you'd like this one!" I might be getting predictable in my reading habits. 😛
Synopsis: Sebastian Konstantinov needs to figure out how to save his father's circus, even if that means pretending to be a talented circus performer to gain admittance to the famed Bonaventure Circus School in Montreal, Canada. But when Seb gets there, he realizes that the school seems to be in just as much trouble as his own circus. With the help of some new friends, Seb must solve the mystery of what is happening at the "World's Best Circus School" before it's too late for both the school and his family.
Historical Fiction
The Last Neanderthal by Claire Cameron: This is another ARC that came to me via the publisher. I absolutely loved the first 4 books of Jean Auel's Clan of the Cave Bear series, so this is a treat for me. I hope this book can live up to my expectations of it.
Synopsis: Archaeologist Rosamund Gale has found the discovery of a lifetime, but is racing against the forces of nature as she works well into her pregnancy to excavate newly found Neanderthal artifacts. Her story is linked to that of Girl, the lone survivor of a Neanderthal clan that died off more than 40,000 years ago, who is faced with the daunting task of making her way to the annual meeting place while caring for a foundling child.
Contemporary Fiction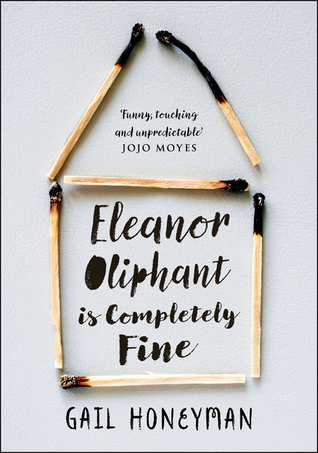 Eleanor Oliphant is Completely Fine by Gail Honeyman: Eleanor sounds a lot like me. She has her routine, and doesn't like things to change. But having a life that is so utterly predicatable can be awfully boring. This book, along with my non-fic choice, were partially determined by the fact that I am totally going outside my comfort zone by visiting another country.
Synopsis: Eleanor Oliphant wears the same clothes to work every day, eats the same meal deal for lunch every day and buys the same two bottles of vodka to drink every weekend. Life is completely predictable, until she meets Raymond, the nice IT guy from work, and Sammy, the elderly gentleman they both help after he falls on the sidewalk.
Short Stories
Public Library and other short stories by Ali Smith: I spotted this book on the shelf a few weeks ago and decided that I should take a collection of short stories with me, just in case I find it hard to concentrate on a long novel. Something about the combination of fruity drinks and sun just makes my brain want to shut down for a while.
Synopsis: This collection of short stories seeks to help us understand why books are so powerful, how they change our lives, and how the fate of the public library is entwined with that of our society as a whole.
Non-fiction
Can't Just Stop: An Investigation of Compulsions by Sharon Begley: I find diverse psychology fascinating, mainly because I have my own set of mental oddities that I would love to find an explanation for. I read about this book in Publisher's Weekly a few months ago and decided that it would make the perfect non-fic book to accompany me on my break from habit.
Synopsis: This book examines the science behind both mild and extreme compulsive behavior, including OCD, hoarding, acquiring, exercise, even compulsions to do good. The author focuses on the personal stories of dozens of interviewees and how their compulsions have affected their lives positively or negatively.
---
What kinds of books do you like to read on vacation? Do you bring more than one book? How many books is too many to bring?