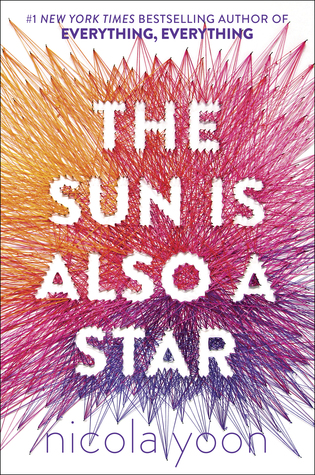 Although I have an ARC of The Sun Is Also a Star, I decided to listen to it as an audiobook instead. I am so glad I did, because the readers for this book were all amazing. I enjoyed this book so much that I passed my ARC to a couple of co-workers just to share the loveliness.
Synopsis: Natasha, who is on a mission to save her family from being deported in the next 24 hours, runs into Daniel, who is on his way to an admissions interview for a college program he isn't sure he wants to attend. The chemistry between the two is obvious from the beginning, but how can a young couple who have only known each other for hours stay together when their respective fates seem to be sealed?
Nicola Yoon said that she was inspired by the relationship with her husband to write this story. I don't know how much of their love story made it's way into this book, but the characters definitely felt very real. Even secondary characters, who we only get brief glimpses of during the chapters narrated by the universe, are very interesting and completely realized. Yoon manages to make a significant statement on the immigrant experience while still telling an interesting and cute love story. 
My only complaint about this book is that we have another version of insta-love in YA literature. I get that Yoon is trying to make a point that everyone is connected and that sometimes we meet people who we click with immediately, but can we not have them making out after knowing each other for 5 seconds? Maybe that's just me being an "old prude" but I just don't think that with Natasha worrying about her family's imminent deportation, that she would be so easily distracted. She's been trying to save them since finding out, and this is her last chance, and yet a pretty boy completely derails her whole day.
"I know there's no such thing as meant-to-be, and yet here I am wondering if maybe I've been wrong."

With Everything, Everything coming out on the big screen soon, I'm very excited to have more people interested in this author's work. I'm so ready to put this book into the hands of eager readers of contemporary YA. One of my coworkers asked me about this book for her niece and I practically ran back to my office to grab my ARC. I also brought Everything, Everything the next day just so she could read both. Haha!
LC Rating: 
---
Have you read this book? What are your thoughts on when characters seem to fall in love instantly?