When looking for something new to read there are many things that draw me to a book. I have particular genres and writing styles that I prefer, but I'm willing to try something new if they catch my interest with any of the following key elements:
---
Set in a circus/freakshow: I didn't realize this was a thing for me right away. I just read one book about characters in a circus, and then I read another, and suddenly I had to have more and more. I prefer darker themes, and have never been able to get into The Night Circus even though everyone else seems to think it's amazing. Ex. Menagerie by Rachel Vincent
Synopsis: Delilah knew that going to Metzger's Menagerie on her birthday was a bad idea, but the tickets were expensive and her boyfriend only wanted to do something fun and special for her. Even as a child she never liked the idea of keeping cryptids in captivity, yet everyone else seems to be enjoying the show. She's just as curious about all the mythical beings that share their world, but when one of the handlers pushes an attractions too far she can't help but react, which lands her in more trouble than she ever expected.
A book about books: As a bookseller, I get a weirdly perverse pleasure from reading books about books. It doesn't matter if it's fiction or non-fiction. Every book about books or libraries, book clubs, or authors is equally as interesting to me. Ex. The Book Club Murders by Leslie Nagel
Synopsis: Charley joined the Agathas Book Club with the hope that some of the wealthy ladies involved would begin shopping at her store, but after two women with close ties to the club are murdered, she's not so sure she wants to be part of it any more. No one in the group knows who to trust, and Charley is drawn into the investigation after a fateful encounter with Detective Marcus Trenault who wishes to use her as an inside informant.
By a favourite author: There are a few authors out there who automatically get interest from me when they write a new book. It's not guaranteed that I will read everything they publish, but I'll definitely check it out when it hits shelves. Ex. The Long Way to a Small, Angry Planet by Becky Chambers
Synopsis: A multi-species crew from all over the universe live and work together on a worm-hole drilling ship. Rosemary, the newest member of the crew, is trying to escape her home world and is basically thrown into the deep end of interspecies protocol with this new job. When an amazing job opportunity presents itself, captain and crew must decide if they can handle a long trip that will test each of them in unexpected ways.
A unique fairytale retelling: I love to see how different authors interpret fairytales and other classic stories. There are so many ways that stories can be changed, and if it's done well then you might not even know that a book is based on an older work. Ex. Heartless by Marissa Meyer
Synopsis: Set against the backdrop of seventeenth-century Holland, Confessions of an Ugly Stepsister tells the story of Iris, an unlikely heroine who finds herself swept from the lowly streets of Haarlem to a strange world of wealth, artifice, and ambition. Iris's path quickly becomes intertwined with that of Clara, the mysterious and unnaturally beautiful girl destined to become her sister. While Clara retreats to the cinders of the family hearth, Iris seeks out the shadowy secrets of her new household — and the treacherous truth of her former life.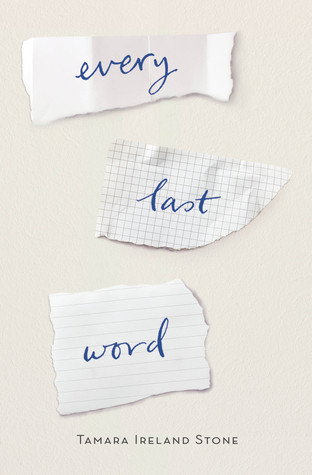 Teens with issues: I have a tonne of issues myself, most of which started when I was a teen, so I find books like this really interesting. I like to read about how these characters overcome their issues (or not) and how different mental health issues are portrayed by different authors. Ex. Every Last Word by Tamara Ireland Stone
Synopsis: Sam has OCD, but has never told any of her friends because she worries that they will kick her out of the cool girl group when they find out. Shitty friends, right? Then she meets Caroline, who is the exact opposite of those girls, and who doesn't care that Sam is obsessed with the number three and tends to get caught in thought spirals. Caroline's friends seem just as wonderful, but Sam isn't ready to share her secret with the world yet, so she starts leading a double life, hoping to figure things out soon before anyone finds out the truth.
Quirky main character: Books about people who don't quite fit in with normal society are always interesting. These people might not have mental health issues, but they sure don't act like everyone else. These books are generally good for a laugh, and rarely disappoint. Ex. A Man Called Ove by Fredrik Backman
Synopsis: Ove (pronounced OH-veh) is a solid and practical old man who just wants people to follow the rules and to leave him alone. So when his new neighbours drive up on his lawn, destroy his mailbox, and ruin his garden, he is understandably upset. Day after day his plans are interrupted by neighbourhood concerns, no matter how much he tries to get away from it all.
Steampunk with a strong female lead: Steampunk is a genre dominated by female authors, so there are often strong female characters, but some are more impressive than others. The girls who build machines and captain airships are so wonderfully kick-ass. Ex. The Girl in the Steel Corset (Steampunk Chronicles, #1) by Kady Cross
Synopsis: When Finley Jayne is cornered by a handsy young lord, she fights back and wins. Her victory is witnessed by an orphaned duke who has been collecting together a band of misfits who each bring their own unique talents to the group. Together they are investigating a criminal called The Machinist, the mastermind behind several recent crimes by automatons. Finley thinks she can help and finally be a part of something, finally fit in. But The Machinist wants to tear her new familyapart, and it isn't long before trust is tested on all sides.
New classic middlegrade novels: These seem to often be mystery books with a slightly historical setting where a group of odd children have adventures. The writing style for these books is usually aimed at advanced readers, but the content is often very silly in nature. Ex: The Mysterious Benedict Society by Trenton Lee Steward.
Synopsis: The "Are you a gifted child looking for special opportunities?" ad attracted dozens of applicants, but only two boys and two girls succeed. They are thrown together on a secret mission, working undercover and underground in the hidden tunnels beneath The Learning Institute for the Very Enlightened, where the only rule is, there are no rules.
Meeting the author: I get more than the average number of opportunities to meet authors thanks to my job as a bookseller, but I still get a huge thrill when I meet someone who has written something I like or think I might like. Sometimes I attend events where I haven't had the opportunity to read a book by the visiting author, but as soon as get home they usually end up on my TBR list. Ex. Birds Art Life: A Year of Observation by Kyo Maclear
Synopsis: Birds Art Life is a celebration of urban exploration and one woman's experience caring for an aging parent. When Kyo Maclear is suddenly thrown into the role of caregiver for her father, the life she was used to is turned upside down. Unable to focus on her art now that her days are broken up between domestic tasks and medical appointments, she reaches out to a local birder in an effort to become more patient and present in the moment.
A really pretty cover: Of course, the number 1 reason that I will buy a book that I know nothing about is a great cover. Since I can't decide which one of the beautiful covers I should feature, I'll just show off my most recent "don't know what this is about but want it anyway" purchase. I found this one while doing research for a guest post I'm writing about female Canadian authors, and I just had to get it even though I have no idea what this author's writing style is like. Ex. Falling in Love with Hominids by Nalo Hopkinson
Synopsis: This collection of science fiction and fantasy short stories mix the modern with Afro-Caribbean folklore written by a Jamaican-born writer and editor who now lives in Canada. The stories range in theme from a retelling of The Tempest as a new Caribbean myth, to filling a shopping mall with unfulfilled ghosts, to herding chickens that occasionally breathe fire.
---
Top Ten Tuesday is a weekly meme hosted by The Broke and the Bookish
What things make you instantly want to read a book?