Last year I basically binged every cozy mystery series set in a library or bookstore that I could find. And while I don't think there is anything wrong with that, I didn't really take the time to read a lot of other stuff. I definitely wanted to get to these books, but they will have to be 2019 reads now.
---
Meet Me at the Museum by Anne Youngson
Why I Want to Read It: I love an epistolary novel (written in letters or diary entries) and I am always looking for something new in the genre that sparks my interest. The idea of two souls who know nothing of each other but what they choose to put on paper is so romantic. Some of my favourite people in this world are penpals whom I have never met.

The Long-Lost Home (The Incorrigible Children of Ashton Place, #6) by Maryrose Wood
Why I Want to Read It: I've been following the Incorrigible Children for years now and we have finally reached the end! The mystery of Miss Lumley and her connection to the family will finally be solved, and the curse that has plagued the Ashton family may finally come to an end.
My Plain Jane (The Lady Janies, #2) by Cynthia Hand, Jodi Meadows, Brodi Ashton
Why I Want to Read It: I was surprised at how much I liked My Lady Jane and can't wait to read this sequel. I love that the authors take historical fact and then infuse it with humour and fantasy in such a unique way.
Murder at the Flamingo (A Van Buren and DeLuca Mystery #1) by Rachel McMillan
Why I Want to Read It: Rachel is a wonderful Canadian author who writes really interesting historical mysteries. I can't wait to start this new series of hers. The covers are always the first thing that grab me whenever I see her books, but the characters and their stories are what keep me coming back for more.
European Travel for the Monstrous Gentlewoman (The Extraordinary Adventures of the Athena Club, #2) by Theodora Goss
Why I Want to Read It: I read the first book in this series on a whim and totally fell in love with the quirky daughters of literature's mad scientists. These books are all about girl power, supporting your friends even when they are very different from you, and fighting against the constraints of a society that believes that women are only good for looking at and nothing more.

Smoke and Iron (The Great Library, #4) by Rachel Caine
Why I Want to Read It: This series has been a wild ride, and I definitely want to keep reading it. The ideals of The Great Library are ones that I think any literature lover can appreciate, but of course there are always going to be issues when only a few people get to dictate what the rest of the world is allowed to know. I might have to go back and previous book in the series just to remind me of everything that happened.
Competence (Custard Protocol, #3) by Gail Carriger
Why I Want to Read It: Honestly, I completely forgot that Gail had another book coming out. I adore the Parasol Protectorate and Custard Protocol series', and have been reading them for years now. The mix of steampunk and fantasy is so fun, and the characters are always so great.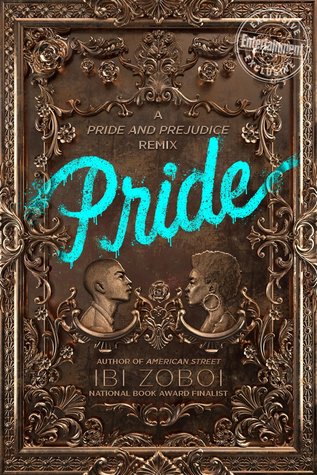 Pride by Ibi Zoboi
Why I Want to Read It: I'm a big fan of Jane Austen and am always interested in unique remakes of her work. I have a signed copy of this thanks to my Owlcrate subscription, so now I just have to crack it open and see if this adaptation can live up to the original.

Tilly and the Bookwanderers (Pages & Co., #1) by Anna James
Why I Want to Read It: I saw this book at work and loved the cover, and then when I read the synopsis I was hooked. As a child I dreamed about being sucked into a fairytale world, so books like this help me live out that dream a little. Haha! The story reminds me of the Inkheart series, with characters coming out of the pages, but I have hopes that it is something very new and different.

Fury (Menagerie #3) by Rachel Vincent
Why I Want to Read It: The first book in this series was so amazing that I was drawn into the world and can't wait to see where the story goes. I love that the author has inserted her magical world into reality, making it seem as though something like this could happen some day. It is definitely a good allegory about our fear of the unknown.
---
Top Ten Tuesday is a weekly meme hosted by That Artsy Reader Girl. Each week a new Top Ten list for anyone to answer. Just add a link to them on your post, and add your name to the weekly linky!