June was a big reading month for me. I decided to check out a few of the really popular series in YA, used Scribd a bit more so that I'm actually getting my money's worth out of it, and found some new favourites.
|  Finished: 15   |   Unfinished: 3 |
---
Read: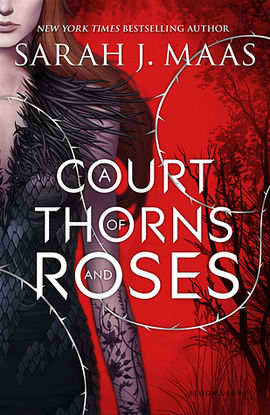 A Court of Thorns and Roses (A Court of Thorns and Roses, #1) by Sarah J Maas – This is a very obvious Beauty and the Beast retelling, which made it a bit predictable, but overall I was very happy with how this book turned out. I'm definitely hooked on the series now.
Synopsis: Feyre has been looking after her family ever since they lost their fortune, even though she is the youngest. She is the only one with the courage to go out into the forest and hunt for their food, and receives little thanks for it. After killing a wolf that she thinks may have been one of the evil faerie folk in disguise, she doesn't realize that she will have to face the consequences. When a giant beast crashes through their door to demand retribution, her only recourse is to go with him to save the lives of her father and sisters. Trapped beyond the wall that separates the human world from that of the faerie, at first Feyre wants nothing more than to escape… except now she thinks that she might be falling for the mysterious masked man who stole her away from a life of starvation and unhappiness.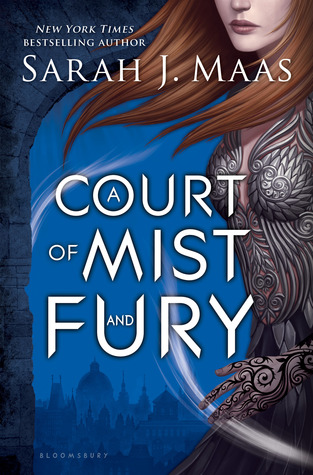 A Court of Mist and Fury (A Court of Thorns and Roses, #2) by Sarah J Maas – I absolutely loved this book. I can't wait for the next one in the series to come out. So far it is the best book I've read this year.

Synopsis: After Feyre's dramatic and traumatic face-off with the evil Amarantha, she doesn't really feel like the smiling faerie princess that everyone wants her to be. She's finally able to be with Tamlin, but he seems determined to keep her locked away "for her own safety" even though it is driving her insane. After three months with no word from Rhysand, everyone begins to think that he won't come to collect her for their deal, until he suddenly appears in the middle of a rather important ceremony to whisk her away. And although Feyre isn't sure he can be trusted, she's suddenly feeling more free than she has since coming back from under the mountain.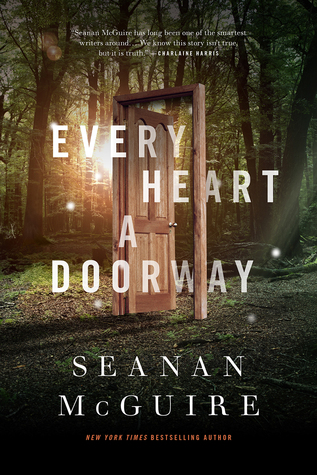 Every Heart a Doorway by Seanan McGuire – This short novella is a good start to the series, but I wish there was a bit more world building involved.
Synopsis: Nancy is the new girl at Eleanor West's Home for Wayward Children, a boarding school for children who were called into alternate universes but are now back in the real world and desperately want to return to the amazing lands they once called home. Her parents don't believe her, saying that her stories are a way of coping with the trauma of being kidnapped. They think that the school is there to help Nancy understand the reality of her situation, but Elly West knows better. She went through her own doorway many years ago, and hopes to help each of her students find their way back to the worlds that called to their souls.
Jackaby (Jackaby, #1) & Beastly Bones (Jackaby, #2) by William Ritter – This series is a little silly and full of fantastical mystery. The first book hooked me with it's fun plot, but the second book really makes it a series that I'll be sure to keep reading.

Synopsis: When Abigail Rook meets R.F. Jackaby for the first time she is pretty sure he might be insane, but she needs a job and he needs an assistant with an open mind and a strong stomach. The townsfolk have warned her that he's a weird one, but even they don't know just how weird his work can get. On her first day, Abigail finds herself in the midst of a thrilling case: A serial killer is on the loose. The police are convinced it's an ordinary villain, but Jackaby is certain it's a nonhuman creature, whose existence the police–with the exception of a handsome young detective named Charlie Cane–deny.
George by Alex Gino – This is a story needed to be told, and I am so glad that someone was brave enough to write this book and a publisher was smart enough to print it. I really hope this book ends up on school reading lists some day.
Synopsis: All George wants is to play Charlotte in her fourth grade production of Charlotte's Web; the only problem is Charlotte is a "girl's" part and everyone sees George as a boy. But in her heart she knows if her classmates, family, and friends could just see her on stage as Charlotte, they would see her as she truly is regardless of how she appears. (from BookRiot Community's review)
Red Queen (Red Queen, #1) by Victoria Aveyard
– This was an okay start to a new dystopian fantasy series, but the problematic insta-love and crazy love octagon surrounding the main character make me wary of reading the next in the series. I'm probably going to wait until the third book comes out before continuing this series.

Synopsis: Mare's world is divided in two: Silvers, the ruling class with silver blood and superhuman powers; and Reds, the normal people who are treated as slaves and cannon fodder for Silver wars. As Mare nears her eighteenth birthday she hopes to find a job so she won't be sent to war, but she never expects to get a job in the palace… or to accidentally discover that she has powers of her own. Keeping her powers a secret isn't an option, so she must be hidden in plain sight, posing as the long lost daughter of a Silver war hero. But just changing what she looks like on the outside doesn't mean they can change how she feels on the inside, and her heart is being pulled in too many different directions for her to remain hidden for long.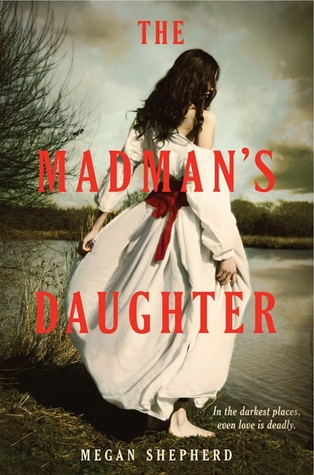 The Madman's Daughter (The Madman's Daughter, #1) & Her Dark Curiosity (The Madman's Daughter, #2) by Megan Shepherd – Another bad example of insta-love showed up in this series. I really like the concept of a retelling of The Island of Dr Moreau, and the Jekyll and Hyde story from the second book was okay, so I'll probably keep going just to finish with the Frankenstein retelling in the third book.

Synopsis: Juliet has been alone since her mother's death and her father's obsession with illegal experiments sent him running from the law ten years earlier. She assumed that he was also dead, until she runs into their former servant, Montgomery, who admits to working with her father this whole time. Desperate to know why she was left behind, Juliet convinces Montgomery to take her to the island where her father has been hiding. On their way, they discover Edward, a man who has been shipwrecked and will likely end up dead if left with the ship's crew. With no alternative plan, Edward is invited to join them on the island, but will any of them be prepared to face the secrets that Dr Moreau has been hiding all this time?
The Invisible Library (The Invisible Library, #1) by Genevieve Cogman – This series really reminds me of Jasper FForde's Thursday Next series. I've already preordered the second and third in the series because I enjoyed this book so much.
Synopsis: Irene works for The Library acquiring rare and unique books from alternate universes, which is usually an easy job, except for the times that it isn't. Her latest mission already seems destined for trouble when she is saddled with a new trainee named Kai and they are being sent to a world where Chaos has taken hold. Neither of them are sure why this particular copy of Grimm's Fairy Tales is so important, but everyone, including one of the worst villains The Library has ever seen, wants to get their hands on it.
Rebel Mechanics (Rebel Mechanics, #1) by Shanna Swendson –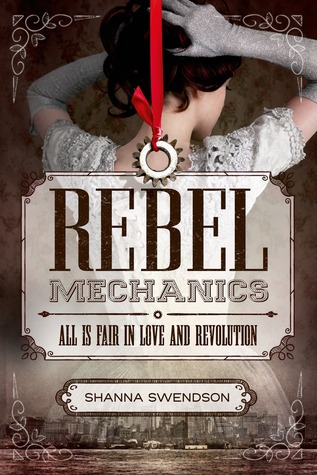 This was such a fun read full of secret societies and intrigue. I can't wait to read the rest of the series. It has a bit of a Jane Eyre feel to it, but with lots more magic and mechanicals.
Synopsis: It's 1888, and sixteen-year-old Verity Newton lands a job in New York as a governess to a wealthy leading family—but she quickly learns that the family has big secrets. Magisters have always ruled the colonies, but now an underground society of mechanics and engineers are developing non-magical sources of power via steam engines that they hope will help them gain freedom from British rule. The family Verity works for is magister—but it seems like the children's young guardian uncle is sympathetic to the rebel cause. As Verity falls for a charming rebel inventor and agrees to become a spy, she also becomes more and more enmeshed in the magister family's life. She soon realizes she's uniquely positioned to advance the cause—but to do so, she'll have to reveal her own dangerous secret.
Magonia (Magonia, #1) by Maria Dahvana Headley –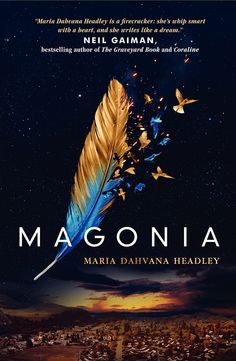 This book was so confusing! I feel like it's nearly impossible to describe, so I'm going to paraphrase the synopsis from Goodreads because I'm sure it took someone a really long time to come up with some sort of description that made sense for this book.
Synopsis: Aza Ray is drowning in thin air. Since she was a baby, Aza has suffered from a mysterious lung disease that makes it ever harder for her to breathe, to speak—to live. So when Aza catches a glimpse of a ship in the sky, her family chalks it up to a cruel side effect of her medication. But Aza doesn't think this is a hallucination. Only her best friend, Jason, listens. Then something goes terribly wrong and Aza is lost to our world—and found, by another. Magonia. Above the clouds she can breathe for the first time. But Magonia and Earth are on the cusp of a reckoning. And in Aza's hands lies the fate of the whole of humanity. Where do her loyalties lie?
Etiquette & Espionage (Finishing School, #1) and Curtsies & Conspiracies (Finishing School, #2) by Gail Carriger –
I realized that I had forgotten nearly everything about this series, so I decided to reread it so that the fourth book would make sense.
Synopsis: Fourteen-year-old Sophronia is a great trial to her poor mother. Sophronia is more interested in dismantling clocks and climbing trees than proper manners–and the family can only hope that company never sees her atrocious curtsy. Mrs. Temminnick is desperate for her daughter to become a proper lady. So she enrolls Sophronia in Mademoiselle Geraldine's Finishing Academy for Young Ladies of Quality.
But Sophronia soon realizes the school is not quite what her mother might have hoped. At Mademoiselle Geraldine's, young ladies learn to finish…everything. Certainly, they learn the fine arts of dance, dress, and etiquette, but they also learn to deal out death, diversion, and espionage–in the politest possible ways, of course.

Prudence (The Custard Protocol, #1) by Gail Carriger –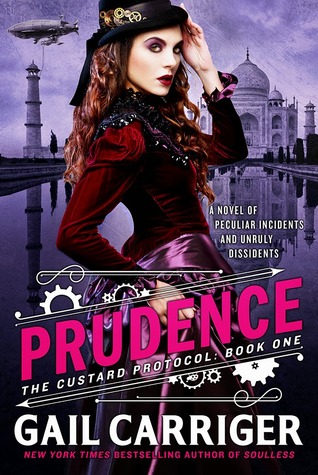 I finally took the time to read this book, and now I can't wait for the next one. I think that my original reluctance to read it was because I didn't like Prudence at first. She was a bit too spoiled for my liking, but she grew on me as the story unfolded.
Synopsis:When Prudence Alessandra Maccon Akeldama (Rue to her friends) is given an unexpected dirigible, she does what any sensible female would under similar circumstances – names it the Spotted Custard and floats to India in pursuit of the perfect cup of tea. But India has more than just tea on offer. Rue stumbles upon a plot involving local dissidents, a kidnapped brigadier's wife, and some awfully familiar Scottish werewolves. Faced with a dire crisis and an embarrassing lack of bloomers, what else is a young lady of good breeding to do but turn metanatural and find out everyone's secrets, even thousand-year-old fuzzy ones?
Unfinished: