Seriously, August, where did you go? I feel like the months are just flying by these days. I once read a study that said that as you get older time seems to be going faster because your brain stops paying attention to the repetitive things you do each day. So obviously I should be doing more new things so that my brain starts paying attention again, or else I'm going to wake up tomorrow and be 82 years old!
Read: 10 books
---
Crown of Midnight and Heir of Fire by Sarah J Maas – I'm becoming obsessed with Sarah J Maas. I was so curious to see what she would do with Celaena next because I had a lot of theories about her. Some have been confirmed, while other things totally surprised me. I love that this series is so different from ACOTAR. Sometimes authors tend to start writing the same thing over and over again, just with different characters, but I'm not getting that vibe at all.
Synopsis: A young assassin has won the honour of being King's Champion, but learns that not all the "enemies of the crown" deserve to be killed. With many secrets to keep, she finds herself isolated from her friends as she struggles to fulfil her destiny.
Calvin by Martine Leavitt – This book started my "teens with mental health issues" genre binge this month. This was a really short and fun read, with a narrator that was completely unreliable but relatable.
Synopsis: A young man is diagnosed with schizophrenia when he starts seeing and hearing his childhood imaginary friend. Convinced that he just needs to go on an epic journey to convince the creator of the Calvin & Hobbes cartoons to draw one final strip, the boy's grip on reality is constantly in question.
A Courtroom of Ashes by C.S. Wilde –  C.S. Wilde is a fellow blogger who asked me to give her book a read. I was a really bad blogger friend and took forever to review it, but I've finally done it and you can read the review here.
Synopsis: A no-nonsense, high profile attorney finds herself in possession of a mirror that allows her to see into the spirit world. One of the evil beings on the other side of the mirror manages to pull her over to the other side. The only way to get back is to team up with a gang of friendly "ghosts" on a quest to get her back to the land of the living.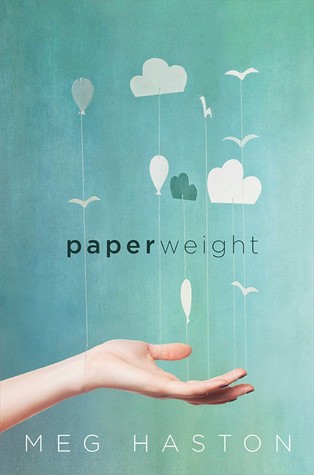 Paperweight by Meg Haston -This is one of the most serious books I've read all year, and also one of the most important. Lots of triggers for people suffering with mental health issues, but great for helping families and friends try to understand these issues with more clarity.
Synopsis: Teen with an eating disorder is sent to a mental health "camp" to get better but struggles to face her demons. She has a plan that depends on her being perfect by a certain date, and she isn't going to let anyone get in her way.

The Haters by Jesse Andrews – There were some laughable moments, but they probably weren't the funny moments that the author intended. I really didn't like the characters in this book, but it was somehow still totally readable.
Synopsis: Three pretentious music geeks escape jazz band camp to start their own band and go on tour. All of them are completely unlikable and they swear a lot.
Extraordinary Means by Robyn Schneider – This book reads like a cross between The Fault in Our Stars and Looking for Alaska. I loved the alternating readers in the audiobook because it made it way easier to figure out who was narrating.
Synopsis: Two terminally ill teens find each other at a sanatorium/boarding school and learn to live life to it's fullest while they still have time. Tragedy strikes and no one knows how to deal with the situation.
Ever the Hunted(Clash of Kingdoms, #1) by Erin Summerill – I wish I had liked this book more, but I thought it was too simple, too easy, and too predictable. I wanted more world building and character development. It felt like a really simplified version of A Court of Thorns and Roses.
Synopsis: Starving and alone, a young woman gets caught for poaching on the king's land and is sentenced to die unless she uses her tracking skills to hunt down the person who killed her father.
Eleanor & Park by Rainbow Rowell – This is another great audiobook that has two readers to keep me from going crazy trying to figure out who is narrating. I was very pleasantly surprised at how much I liked this book.
Synopsis: Two misfit teens find their lives unexpectedly entwined after sitting next to each other on the school bus. A shared love of music and graphic novels brings the two together in ways neither of them expected.
My Heart and Other Black Holes by Jasmine Warga – This book was another really hard read due to the content. These teens have had some really awful things happen to them, and their depression was difficult to read about. It was a pretty predictable ending, but a really good read still.
Synopsis: Two suicidal teens make a pact to help each other die. As the reasons for their actions are explored, the bond they share makes letting go that much harder.
---
What did you read this month? Have you read any of these titles?