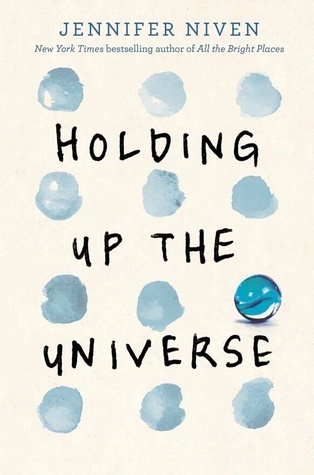 I have so many reviews I need to catch up on, so sorry but you are all going to see a bunch of books that have been out for a while until I catch up.
I was super excited to get a copy of this book from the publisher. The premise sounded really interesting, and I've been meaning to read a book by Jennifer Niven for a while. Holding Up the Universe was a great addition to my "teens with issues" reading binge this winter. This book combines eating disorders and unique physiological issues, making it both relatable and educational.
Synopsis: Libby has been defined by her weight all her life, but after years of homeschooling and psychiatric help, she's ready to face her peers and whatever they have to say about the "fattest girl in America." But teens can be cruel, and when the most popular boy in school, Jack, is encouraged by his friends to prank her, they end up thrown together in group counselling and community service. Learning more about each other proves that they aren't so different, and that labels given to us by society are rarely ever true.
Libby is such a relatable character for me, and I think that anyone would find her bravery inspiring. We all face judgement based on our looks, and Libby goes out of her way to prove that she is capable of being and doing more than society expects of her. She doesn't try to downplay the fact that she is still considered an overweight person, or that being judged for her weight affects her emotionally. She's just wants to be appreciated for being Libby, the totally awesome person that she is. One of my favourite parts is when she chases after a boy who has tried to humiliate her, and she basically runs the kid down because she's so fast.
"Dear friend, You are not a freak. You are wanted. You are necessary. You are the only you there is. Don't be afraid to leave the castle. It's a great big world out there. Love, a fellow reader"
As with so many teen romances, this book fails at avoiding the insta-love trap. Libby and Jack barely know each other before they start having "feelings", which definitely moves the story along quite quickly, but generally makes me cringe. People, especially teens, are so hung up on appearances, and I find it doubtful that Jack would have been able to overcome the conditioning that would have separated him and Libby socially as quickly as he does. Just because he has his own issues and secrets doesn't mean he would have given up the security of popularity to be with someone he barely knows.
Anyone who likes YA romance is sure to love this book. It's full of great characters, a strong message, and a cute love story. And of course, the best part of this book is the love that it has inspired in readers. I just love seeing all the "I am wanted" (or "you are wanted") tributes that people have posted online.
LC Rating: 
Have you read this book? Did you find the characters relatable? What was your favourite part?
---
This book was sent to me as an employee of Indigo Books & Music. The opinions expressed in this blog are entirely my own.